4 Unique Chinese Restaurants in Marina Square
Marina Square has got quite a mouth-watering food range of Chinese restaurants showcasing the culinary traditions of different provinces in China. Whether you're looking to share Peking duck with your family or experience a classic weekend dim sum brunch, Marina Square has got you covered.
Yechun Xiao Jiang Nan
Unit: #02-181/182
Tel: 6333 4038
Having opened for 2 years, Yechun Xiao Jiang Nan specializes in Jiang Nan cuisine. Executive chef Li Jing is from Yang Zhou and he ensures that every dish in the menu is kept true to the flavours of Jiang Nan. One example is the Shredded Tofu ($6). Each tofu shred is poached over water for at least 3 times to prevent lumps and tossed with soy sauce and sesame oil. Another appetizer worth trying is the Fresh prawns with Fermented vegetables ($12.80). The fermented vegetables elevated the crustacean flavours and goes well with the crunchy prawns.
For comforting flavours, share a pot of Duck confit with Bamboo shoots ($26). Instead of goose, the restaurant air dries the duck and mixes it with vegetables in the soup. What you get is a thick and tasty broth with some sweetness from the carrots. Each piece of duck meat is sliced to an optimal thickness so you get that good bite.
2. Dragon Bowl
Unit: #03-129A
Tel: 6858 1588
Opened since last October in Marina Square, Dragon Bowl has been dedicated to making made wonderful contemporary Cantonese cuisine while preserving the traditional flavours. One of the must try dishes is the Dragon Bowl Peking Duck. It is all about that crunch on the skin that lead up to tenderness, with fatty richness unifying the two. The duck is marinated with spices overnight, air dryied and roasted till perfection.The process is not easy, but I am glad Dragon Bowl has done it well.
Dragon Bowl also served deep fried prawn done in many ways. We had the one coated generously with thick and creamy pumpkin sauce, enhanced by curry leaves. Another method was to serve it with cheese, so kids will enjoy them more. Other dishes to try include the Homemade Beancurd with Bamboo Charcoal Powder, Braised Pork belly in Special Sauce and many more. There's also a are also wide range of Liquor, Wine, Beer and Sho Chu specially selected to go well with their cuisine.
3. Mouth Restaurant
Unit: #02-200
Tel: 6337 7446
Mouth Restaurant has been serving traditional Hong Kong dishes with a modern twist at an affordable price since 1989. The Scallion Sakura Chicken is my favourite. Using only Sakura Chicken of a selected size which gives the best meat with less fat, the chicken is poached in a traditional way to ensure meat is juicy and tender. Remember to dip your chicken chunks into the tasty scallion sauce as it complements the dish very well.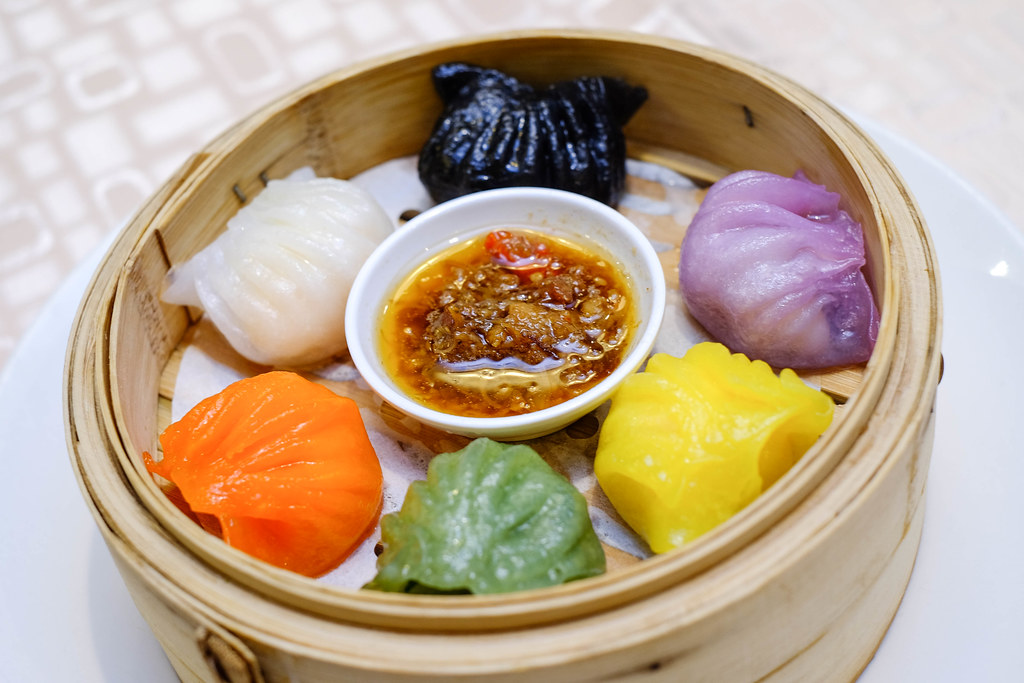 While some other Chinese restaurants create different flavours of Xiao Long Bao, Mouth Restaurant decided to be creative and created 6 different Har Kau flavours instead.The traditional prawn dumplings come in multiple colors ranging from the more adventurous, Squid Ink, Spinach and Sweet Potato flavors to the novel Pumpkin, Carrot and Original flavors. These colourings are made from natural food ingredients, which create a delicious oriental taste with a twist. End your meal on a sweet note with the Legendary Baked Liu Sha Bao. Peel it open and let the custard centre flows. YUMMM…
4. Kai Garden
Unit: #03-128A/128B
Phone: 6250 4826
Since opening last December, Kai Garden, helmed by one of Singapore's most sought-after chefs Fung Chi Keung, has already established itself as the premier destination for Cantonese cuisine. I have been singing praises of their Garoupa with Lobster Broth after I had it in the restaurant. With fresh garoupa presented in front of your table, the staff will help you 'swish' the fresh slices into the lobster broth. The broth has been boiled for hours making it rich and addictive. I reckon any kind of fresh seafood works well with the broth.
One of the must try dim sum items include Charcoal Shen Jian Bao ($6.80). Pan fried over a hot plate, its moist meat filling with a slightly chewy skin and crispy fried bottom was so good. They also serve Peking Duck with 5 creative sauces like Black pepper, Seafood sauce, Sesame sauce, Mixed sauce and Original. Not only that, there are 5 different types of skin to wrap the Peking duck with. The skin is made with natural ingredients and come in flavours such as Charcoal, Beetroot, Spinach, Pumpkin and Original. That marks the start of a colourful weekend. ☺
DINING TREATS (7 – 31 JULY 2016)
From Monday to Thursdays, spend $30* at any F&B/Food outlet to redeem a $10 dining voucher. On weekends (Friday to Sunday), spend $60* at any F&B/Food outlet to redeem a $10 Marina Square Gift Voucher.
*Limited to first 3,000 diners, while stocks last. T&Cs apply. For more information, visit: http://www.marinasquare.com.sg/previews/happenings/promotions