Club Med Phuket (Part 1)
If you were to ask me what's my dream holiday two weeks ago, I probably won't be able to give you an answer then.
You see, I really dread the idea of following a tour group with 101 things to do from 7am till 10pm everyday, neither do I enjoy spending the whole trip visiting some old buildings or museums. But I can't really define what I would enjoy.
It is only when I stayed at Club Med Phuket last week,
I found the answer to my dream destination
.
Welcome drink
What's so special about Club Med is its ALL INCLUSIVE travel package. This means, you pay one price and you will get to enjoy everything. From transportation, accomodation, food, to use of facilities, sports activities, games, and shows, everything is included!
And the reason why I was there, is because Club Med Phuket has underwent a major overhaul by the interior design firm
Studio Hertrich & Adnet
. Inspired by the culture, history, handicraft and the architectural language of Thailand, the revamped Club Med Phuket oozes serenity and luxury while blending hospitality with Thai culture.
Upon reaching the village (they call the resort 'village'), we were greeted by the bold colours of the lobby that is inspired by the entrance of a Thai temple. Furniture is specially created for the resort to provide colour palette that runs throughout the resort.
I was then lead to my spacious
Deluxe Room
, decorated in traditional Thai style. The rooms aren't renovated but they are very already very comfortable. There is also a furnished balcony where I can relax and admire the magnificent exotic garden. (But of course, I didn't dare to do that because I am afraid that the mosquitoes will bite me!)
At evening time, I went to the poolside and saw this magnificent view of the main restaurant. I didn't need to edit the photo, the sky was dark blue and the restaurant's lights cast a very beautiful shadow in the pool.
To commemorate the re-launch of Club Med Phuket, we had a Gala dinner by the new Chu Da & Zen poolside hosted by Club Med Chairman Henri Giscard d'Estaing (left). Well, to keep you guys in suspense, I will only reveal the Chu Da & Zen poolside photos in my next blog post!
There were interesting performances by the Thai and salsa dancers.
There is also cute elephants there to grace the occasion. Actually I wsn't holding the elephant as it was growling! Haha, yes call me miss timid!
The Gala Dinner had many different live stations around the restaurant. I started with
Tom Yam Soup with prawn, squid and fish, served in bamboo
. It wasn't that spicy as I have expected it to be.
Of course there are international cuisines such as tuna, salmon and eel
sushi
which ran out very fast.
I had the Premium Beef Char, grilled with morel's sauce. It was a bit too raw for my liking.
However, I really love the Jumbo Prawns grilled with Butter garlic sauce. The prawns here are FAT & HUGE! No kidding, I have never seen such a big prawn in Singapore! The prawns are drizzled with butter garlic and sided with mashed potatoes. Well executed!
There were alot more other mains that night such as the Duck Confit, Thai Curries, Pan Seared Fish, Mumbai Vegtable Curry, Thai Papaya Salad and many more. But all the food weren't served in tasting portion so I didn't get to try.
Last but not least, the yummy chocolate cake!
The key to Club Med's success is its international and fun-loving G.O.'s (gentils organisateurs). They came from 40 different countries and instead of seeing them as another resort staff, they are practically like a friend.
They hold different duties in the morning and at night, they will transform to be talented performers! The Purple Pool Show they did that night was amazing! Kid you not, they were real professional circus performers!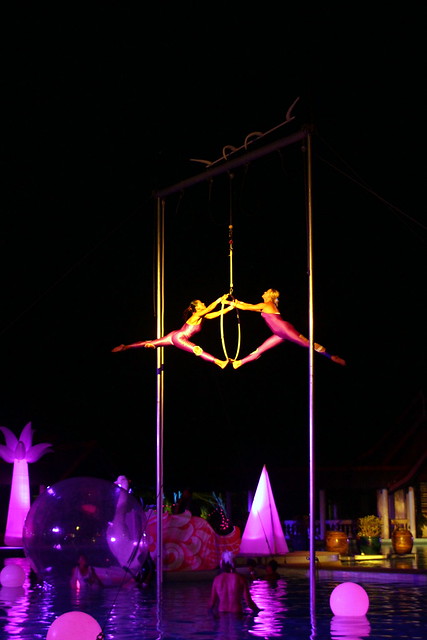 And that is not all. After the whole performance, there is fireworks!
Don't go back to your room after the fireworks. Because that's where the party begins!
They have steps for almost every song where G.O.'s and guests can dance together and party whole night. The G.O.'s are really energetic!
And here comes….LADY GAGA! *screams*
This is the pretty Sora, from Korea! After much dancing, it was already 1am. No, I am not tired at all. I feel young once again!
Here's a group shot of all of us! The theme for that night is "white with a touch of purple".
Check out for Part 2 soon!