Diamond Kitchen @ Marine Parade – Excellent Chinese Cooking
Diamond Kitchen looks like any other Chinese restaurant. The dishes in the menu is nothing spectacular. Whatever you have tried here, can most likely be found in any other Chinese restaurant. No, you won't get to see any diamonds. They gave this name because one of the owner deals with diamond. However, Diamond Kitchen has some stand-out dishes.
During last week's makansutra forum dinner, we had the pleasure to taste some of the dishes at Diamond Kitchen. I had two small bowls of Superior Chicken Soup ($18 small, $36 medium) as it carries all the flavours of home. Double-boiled with kampong chicken on the bone, wolfberries, scallop and velvet pioppini mushrooms, this is a wonderful tasting dish!
Drenched with a generous serving of pumpkin sauce, the homemade bean curd ($12 small, $18 medium, $24 large) is very so smooth and soft that we wolf it all down very quickly. Topped with prawns, crab meat and scallop, in my opinion, it doesn't add any value to the flavour.
Champagne Pork Ribs ($12 small, $18 medium, $24 large) is soft, succulent and bursting with flavours. They take an effort to de-bone their pork ribs.
Salted Egg Sotong ($12 small, $18 medium, $24 large) is first deep fried and then coated in a golden layer of salted egg sauce. The sauce has more oomph than many other places. But I guess the sotong pieces are small, so we can only taste the salted egg.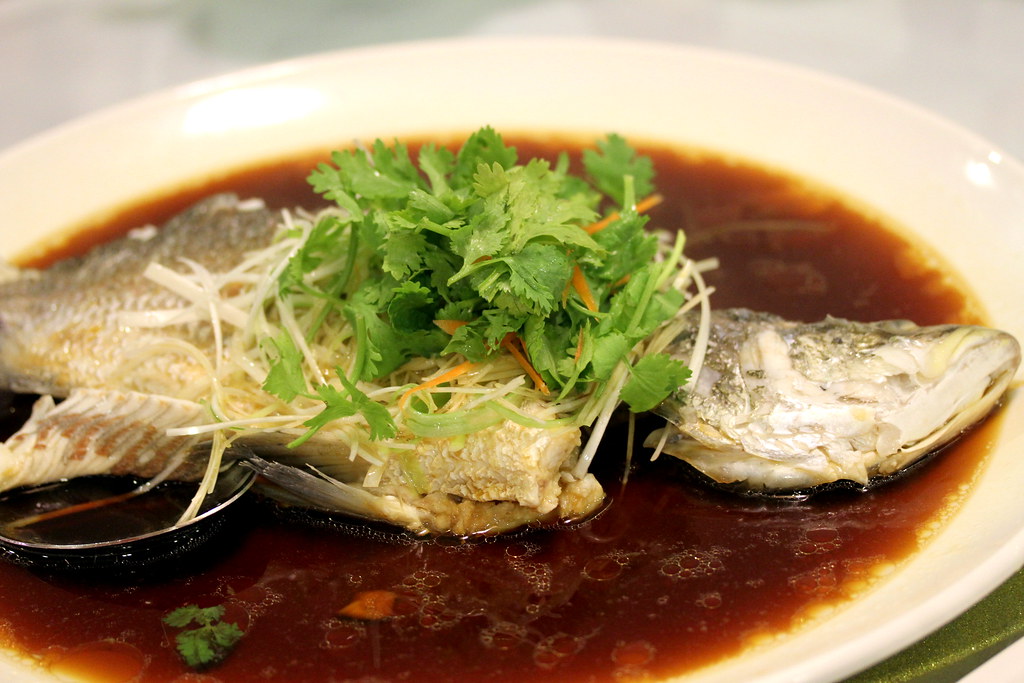 The restaurant takes effort to bring in fresh fish supplies from Senoko Fishery Port and Pulau Ubin. Their Hong Kong Steamed Fish (seasonal price) is showered with shredded spring onions and coriander. The superior soya sauce comes with a little touch of sweet, and goes well with rice. Unfortunately, the fish was slightly overcooked that day.
Stir Fried Sweet Potato Leaf with Salted Fish ($10 small, $15 medium, $20 large) is excellent. The vegetables is stir fried with salted fish, garlic, chilli padi and deep fried pork lard. So simple yet so good!
Gan Xiang sauce originated from Malaysia and is prepared by deep-frying Hae Bee Hiam (dried shrimp), Curry Powder, Lemongrass, Dried Chilli, Taucheo (fermented soy bean paste) and many other delectable spices. Gan Xiang Crab (seasonal price) is excellent with smoky aroma.
Last but not least, Superior Stock Clam Bee Hoon ($12 small, $18 medium, $24 large) is unbeatable. The bee hoon is well braised in rich stock and topped with a lavish serving of clams. It has a wealth of umami on the palate with the bee hoon soaking up all the flavours.
I took me 1 hr 20 mins to travel from my house to Diamond Kitchen. But this is one cze char restaurant which I really don't mind coming back for.
Diamond Kitchen
Address: 5000F Marine Parade Road, #01-22/23 Laguna Park Condominium
Tel: 6448 0629
Opening hours: 11am-2.30pm, 5.30pm-11pm
Website: http://www.diamondkitchen.com.sg/
Let's build a food community that helps to update the food news in Singapore! Simply comment below if there's any changes or additional info to Diamond Kitchen. We will verify and update from our side. Thanks in advance!