Make Your Own Instant Oats at Home with Eazy-Go!
I have a bad habit of skipping breakfast because food preparation just takes up too much of my precious sleeping time. If I don't get enough rest, I'm a total zombie the next day. And when I am tired, I don't make the wisest decisions when it comes to my food choices. Who's with me?
However, what if making breakfast is a breeze? The Captain Oats Eazy-Go instant oatmeal might just be your life saver.
We are all familiar with Captain Oats – the brand that does instant oatmeal, quick cook oatmeal and rolled oats. They have just launched the new Eazy-Go instant oatmeal range.
Eazy-Go range includes both sweet and savoury options:
• Chicken Mushroom Instant Oat Porridge
• Mixed Vegetables Instant Oat Porridge
• Honey & Raisins Instant Oatmeal
• Skim Milk Instant Oatmeal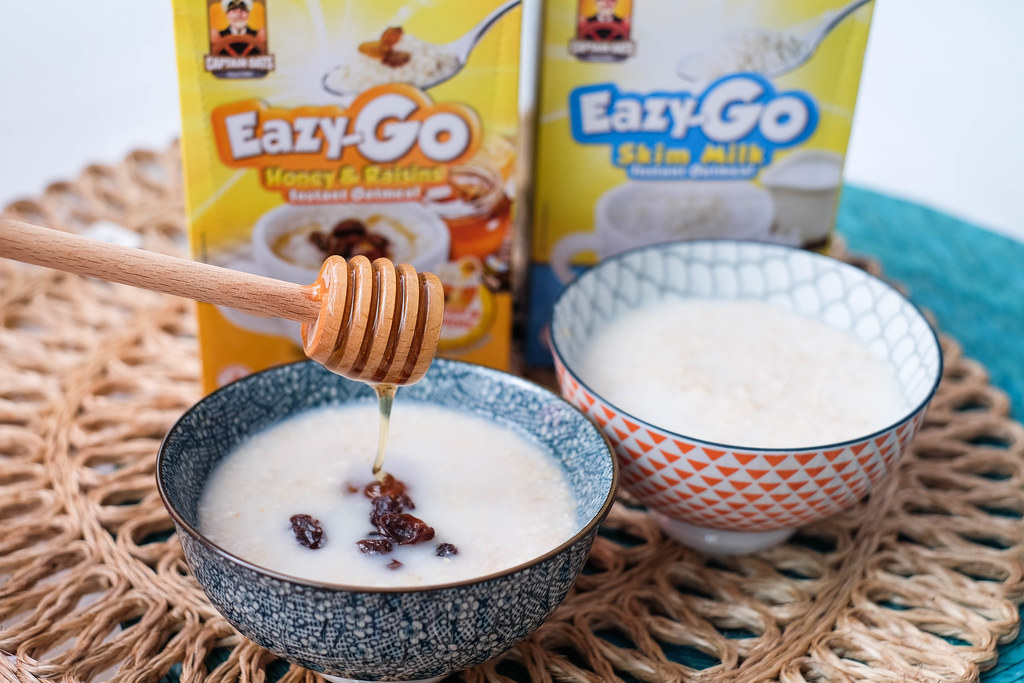 This is the first time Captain Oats is venturing into flavoured instant oatmeal. The new range comes in a sachet and offers convenience to busy consumers looking for something nutritious to fill tummies.
It takes only 3 minutes for you to enjoy a tasty and nutritious bowl of Eazy-Go. All you have to do is add 220ml of hot water to the mix, stir well, and wait for 3 minutes. That's it! Easy as ABC, isn't it!
For a simpler breakfast option, you can choose either the Skim Milk Instant Oatmeal or Honey & Raisins Instant Oatmeal. The raisins are the perfect chewy accompaniments to the delicious oats.
I like the Chicken Mushroom Instant Oat Porridge and Mixed Vegetables Instant Oat Porridge the most. Its consistency is similar to that of authentic porridge and you can really taste the sweetness from the vegetables.
We all know the benefits of oats – it helps to reduce bad cholesterol and prevent heart diseases. All Captain Oats' products are made from premium Australia oats via the Oati-Fresh process to maintain the freshness of oats from farm to bowl.
Eazy-Go is a wholesome and quick fix for days when you're just short of time or energy as it provides us with at least 45% of our daily whole grains requirement. It is a source of dietary fibre, is packed with real fruits and vegetables, and does not contain any preservatives or MSG. It is Halal-certified and comes with the Healthier Choice stamp – the Singapore Health Promotion Board recognises its higher wholegrain content.
Moving towards a healthier diet doesn't always mean big changes. It can also come from making small, healthy decisions daily. Take just a few minutes to prepare the Eazy-Go instant oatmeal and you'll have a healthy breakfast in a flash!
Eazy-Go is available in all major supermarkets.
You can find out more from Captain Oats:
FB Page: www.facebook.com/captainoats
Website: www.mycaptainoats.com/