EMPRESS – Modern Chinese Dining at Asian Civilisations Museum
Following the successful opening of a suite of F&B and nightlife concepts, The Privé Group breaks new ground with a new flagship concept, EMPRESS at the recently re-launched Asian Civilisations Museum.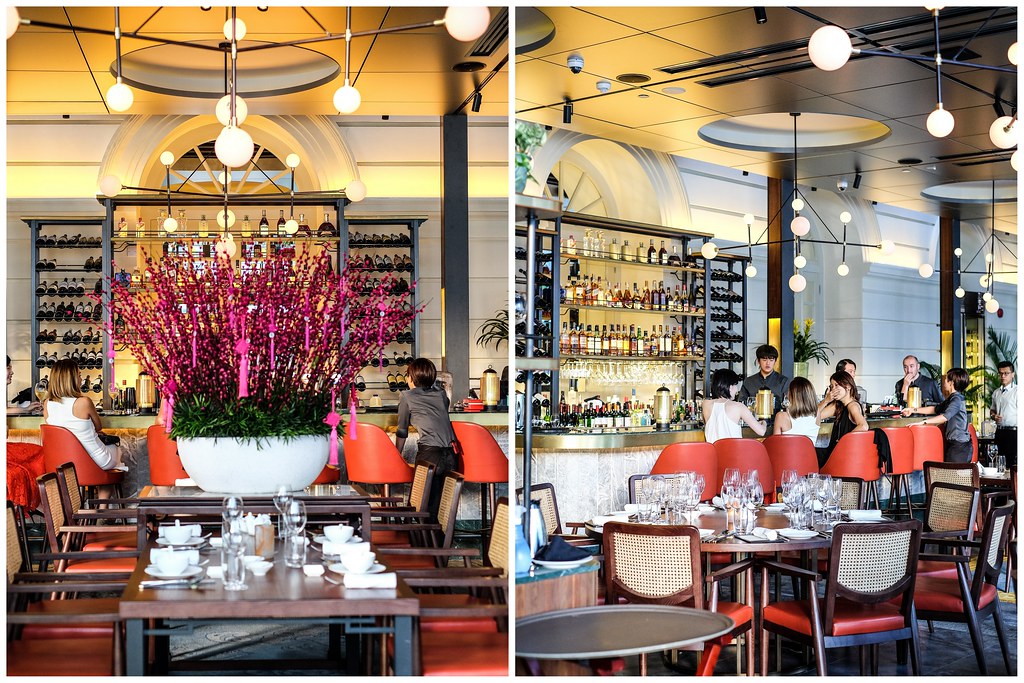 Designed by interior design firm, Takenouchi Webb, EMPRESS features a modern design carefully balanced with Chinese elements and the historical reference to the museum's façade as its stunning backdrop. The restaurant boasts a high-ceiling indoor dining area complete with an intimate private dining room, as well as an outdoor dining terrace with a waterfront view of the Singapore River.
True to its Cantonese roots, one of the signatures at Empress is the Triple Roast Platter ($28), which highlights the Spanish Grain-Fed Duroc pig breed. Dig into the Crackling Roast Pork, EMPRESS Char Siew, and EMPRESS Sweet & Sticky Pork Ribs, and savour the rich marbling, natural juiciness, tender texture and delicious flavor. My favourite is the crackling roast pork which has a biscuit-like skin with juicy layer of well-seasoned meat. The skin is crispy brittle to the point that it is almost breaking. The char siew was very very fatty, they managed to roast it till the fats just melts in your mouth. Pork ribs were tender and rich in flavours.
To whet the appetite, the Deep-Fried Tofu & Salted Egg Yolk ($10) and Crispy Cod "Bi Feng Tang"-Style ($12) will start the meal on the right note. The Bi Feng Tang cod is packed with fragrant zing of caramelized shallots and chilli that makes me go for more.
A step away from the ordinary, EMPRESS also offers a selection of Western-style salads with both traditional and modern flavour combinations like the Crispy White Bait Salad ($18) finished with a smashed young ginger-palm sugar vinaigrette and the Crispy Aromatic Duck Salad ($18) served with a plum-citrus dressing. The duck salad was a refreshing start with crunchy cucumber slices, baby spinch, pomelo, nashi pears, goji berries, Chinese figs and spring onions. The plum citrus dressing reminds us of yu sheng.
No Cantonese meal is complete without soup, so EMPRESS offers a good selection including the King Prawn Dumpling in Supreme Broth ($14) as well as the Japanese style Teapot Soup ($14) made with supreme broth with pumpkin, seafood dumplings and crispy spring rolls. Both has similar soup base and it's really hard to pick a favourite.
Follow this with a tangy Sweet & Sour Pork ($24) with lychee and aged vinegar and Wild-Caught Whole Red Grouper ($138) served boneless which makes sharing a whole lot easier. Another standout is the restaurant's solid selection of tofu such as the Seafood Spinach Tofu ($22) with housemade tofu, as well as the bubbling Lobster 'Mapo' Tofu ($28) pot. What's interesting is, the sweet & sour pork comes in large pieces instead of our usual small cubes. The lobster mapo tofu that we had was towards the spicy side, I would prefer it to be a little sweeter.
We round off our savouries with Dragon's Breath Angus Beef Hor Fun ($22) which had enough wok hei to finish it a smoky finish. But the one that we had that night was a little too salty. Perhaps a lime would also help to cut the oiliness. There is also Singapore-Style Noodles ($22) and vegetarian Fried Brown Rice Medley ($20) which carefully balances taste with health.
End the meal on a fun note with a dessert selection that is completely unexpected in a Chinese restaurant. Whimsy and fun are the main inspirations behind the Western- style creations, including a Cempedak Crème Brûlée ($13) topped with fresh and dried jackfruit. This is my favourite dessert amongst all because of the thick aroma of chempedak in the creamy pudding. Sticky Date & Longan Pudding ($12) with goji berry swirl ice cream is another hot favourite. The sponge cake like texture is different from the stick date pudding that we had in other places, but I am not complaining. Logan added the natural sweetness into the dessert. Other options include Peanut-Coated Black Sesame 'Mochi' Balls ($12) with black sesame ice cream and Steamed Molten Egg Custard Buns ($5.80).
Dining here is a casual yet elegant, relaxed yet vibrant experience. The alfresco area offers breathtaking views of the Singapore River and a casual setting for after-work socializing over Asian-inspired cocktails and scrumptious bar bites under a blanket of stars.
For large gatherings, EMPRESS offers a range of set lunches and set dinners starting from a very affordable $18 and $88 respectively. Those looking for a lighter lunch can also opt for a selection of Dim Sum (starting from $5.20) which is served daily.
EMPRESS
Address: 1 Empress Place, Asian Civilisations Museum, #01-03, Singapore 179555
Opening Hours: Monday – Sunday Lunch: 11.30am – 3pm. Dinner: 6pm – 11pm
Website: www.empress.com.sg
Tel: 62388733
Let's build a food community that helps to update the food news in Singapore! Simply comment below if there's any changes or additional info to EMPRESS. We will verify and update from our side. Thanks in advance!