Hana Japanese Restaurant – Interesting Flying Noodles & Meals in Grid Boxes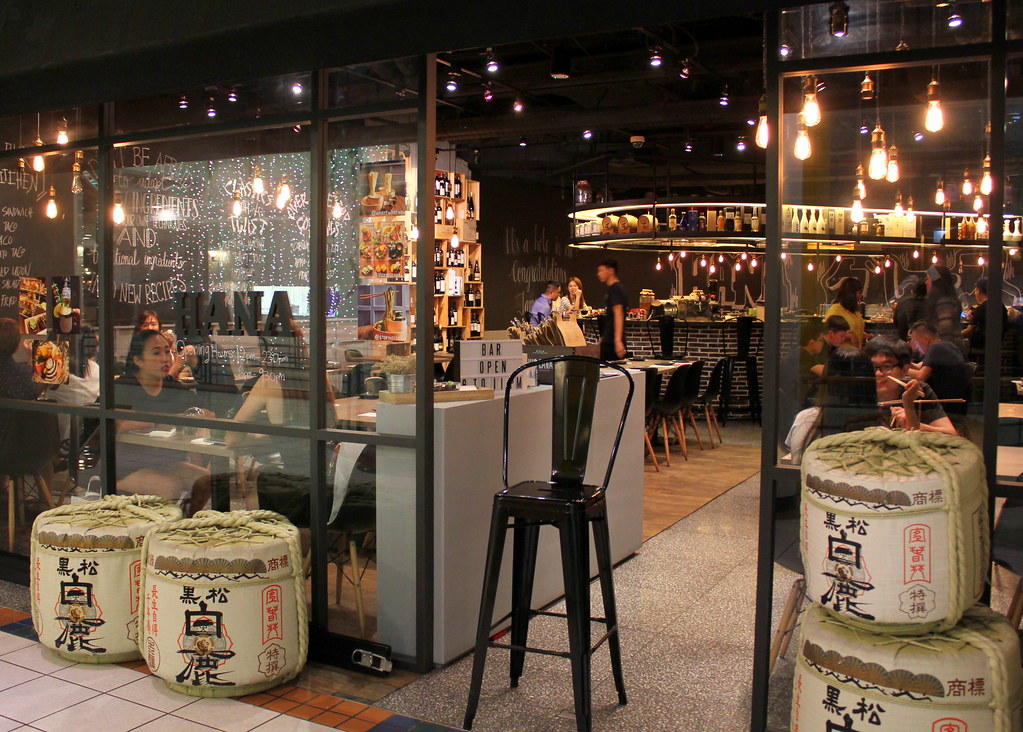 Hana Japanese Restaurant has been talk of the town lately as they made headlines for their "flying noodles". Located at The Forum, slightly away from the busier streets of Orchard Road, we didn't expect a huge crowd but we were completely astounded upon reaching the restaurant around 7pm on a Wednesday night. There were 20 plus people queuing in front of us and we were only seated around 8.45pm. Although the wait was long, we would like to compliment Hana Japanese Restaurant for giving out mini chocolate desserts to the customers waiting in line.
Our food arrived around 9pm and we were starving! The side dishes we shared were Grilled Pufferfish ($15) and Lobster Mayo Sushi Tacos ($15). The former was a tad disappointing as it tasted similar to cuttlefish where we can get almost everywhere. It had a chewy and slightly sticky texture which weren't that enjoyable.
The latter, on the other hand is a recreation of lobster rolls. It contains lobster mayo sushi encased within a crispy taco exterior. We liked the bursts of juicy flavours from the roe, and enjoyed the mix of textural differences between the crunchy exterior and creamy filling. This is a great starter, so appetising it whets your appetite for more.
The two flavours of "flying noodles" we had were Flying Truffle Somen with Ikura and Sakura Ebi ($20) and Flying Salted Egg Yolk Udon ($18). The long waiting time in the queue made us a little angst hence thinking that "the food better be damn good!" Unfortunately, the truffle somen was not executed well. The somen itself has a light texture and light taste which we liked but the truffle sauce was too strong for our liking.
The Flying Salted Egg Yolk Udon fared much better. Giving Japanese dish a local twist and joining the current salted egg yolk craze, this dipping sauce was curated just right! It boasts a creamy and smooth texture, spiced up a little by curry leaves and chilli padi. This sauce leans towards a sweeter side and we think it's better than some zi char stalls out there. However, pairing the udon with this sauce weren't our cup of tea.
Due to Hana Japanese Restaurant's extensive menu offerings, you might be spoilt for choice so we recommend their 4×3 grid box ($38). Basically, the chef would pick an assortment of 12 small bites of chawanmushi, tempura, sashimi and maki, just to name a few, to be served in each grid box to surprise you and these items change every time so you don't always get the same food. Our favourite was the thick and fresh slices of salmon, octopus, scallop and tuna sashimi.
Matcha-misu ($15) was a saving grace which ended our night on a sweet note! It's decorated like a terrarium and so pretty that we didn't bear to eat it until many photos have been taken. The first bite was heavenly as it features a velvety, creamy texture with a subtle matcha flavour. It wasn't overwhelmingly sweet, perfect for die-hard fans of matcha!
We're pretty sure all restaurants have their fair share of hits and misses. As good as the "flying noodles" gimmick draws crowd to Hana Japanese Restaurant, they probably got to improve on the taste of these noodles. The restaurant also serve Chirashi, Omakase and a variety of rice dishes as well so it's better to go in bigger groups so as to try more items!
Hana Japanese Restaurant
Address: #01-17, 583 Orchard Road, Orchard Forum, Singapore 238884
Phone: 6737 5525
Opening Hours: 12pm to 2.30pm (lunch) and 6pm to 9.30pm (dinner) daily.
Facebook: https://www.facebook.com/HANARest/
MissTamChiak.com made anonymous visit and paid its own meal at the stall featured here.
Let's build a food community that helps to update the food news in Singapore! Simply comment below if there's any changes or additional info to Hana Japanese Restaurant. We will verify and update from our side. Thanks in advance!