#IONFoodie Travels – A Trip Through Cuisines Around the World
Go on a #IONFoodie adventure around the world with ION Orchard's F&B outlets! From now till 31 July 2016, various outlets will be offering discounts or 1-for-1 deals for selected items.
To enjoy the deal, simply visit the store and redeem it in the ION Orchard App (iOS / Android). After redeeming a deal, a country / city stamp will appear on your ION Holideals Foodie Travalog page. After 31 July 2016, 5 users with the most deals redeemed and 5 users with the most country / city stamps collected will each receive a $20 dining voucher. Visit their website for more information.
Maureen and I went around ION Orchard and here's our picks:
*STAMP: JAPAN
Tonkatsu Ginza Bairin
#B4-39/40/41/42
This specialty tonkatsu (breaded deep-fried pork cutlet) brand serves up signature dishes that I can hardly resist. Their Black Pig Loin Tonkatsu ($20 for 100g serving, $23 for 140g serving) is prepared using breadcrumbs with reduced sugar and is deep-fried to perfection. It is crispy on the outside, while still juicy and tender on the inside.
The special black pig katsu don ($19 for 130g serving) is said to be the best-selling item in Singapore and also the top donburi in Japan. The fried cutlet is simmered into a special sauce blend which enhances with a sweet flavour. Savour it with rice and the sunny-side-up on top.
Enjoy 1 for 1 for any Kurobuta item ($20 – $22.50). Limited redemptions valid till 28 April 2016 while stocks last. Available only from Monday to Thursday. T&Cs apply.
*STAMP: KOREA
Seoul Yummy Korean Casual Dining
#B3-22
Bring a few of your friends along to savour Seoul Yummy's Army Stew with Spicy Octopus and Seafood together. The generous portion of budae jjigae comes with items such as crab legs, large prawns, squid, baby octopus and ramyeon (noodles) in a bubbling spicy soup base. Small plate items like kimchi and peanuts are also served alongside your orders. For solo diners, you can go for signature items like hotstone bibimbap and their ddeokpokki (spicy Korean rice cakes).
While you feast on the food, your other senses are in for a treat too! The restaurant is decorated with pop-art portraits of K-pop stars like 2NE1, BIGBANG and 4Minute, and plays a tasteful selection of their songs.
Enjoy $5 off total bill with a minimum spend of $100 in a single receipt. Limited redemptions valid till 31 July 2016 while stocks last. T&Cs apply.
*STAMP: VIETNAM
Wrap & Roll – The Best of Vietnamese Food
#B3-19
Beef pho is one of the signature items in Vietnamese cuisine, but its chicken counterpart is just as good. Wrap & Roll's pho ga (chicken noodle soup pho, $11.90) is prepared with a Hanoi-style chicken broth, which is not so salty, and a thinner variant of broad rice noodles (think linguine). Herbs such as star anise are grilled before they are added to the broth. Add some chilli sambal to accentuate the flavours (we both love it!).
Enjoy 1-for-1 chicken noodle soup pho at $11.90. Limited redemptions valid till 31 July 2016. T&Cs apply.
*STAMP: THAILAND
Nara Thai Cuisine
#B3-21
We then moved next door to Nara Thai Cuisine and had hearty servings of their bestselling Ayuthaya Boat Noodles ($12.90/$14.90).
The sweet creamy broth is prepared using pork bone marrow, which is slow boiled for about 5 hours at the restaurant. The rice noodles are then blanched and added to the broth. Other items such as morning glory stalks, tender pork slices and flavourful pork balls are also added to the noodles.
If you like, you can also request for the beef version where the meat slices and meatballs are swapped respectively. A dry version of the boat noodles is also available where the soup is served on the side (I say, go for the soupy version to enjoy the best flavours of this dish!).
Enjoy 1 for 1 bestselling Ayuthaya Boat Noodles with Pork for just $12.90, available from 11.30am to 6pm daily (except eve of public holidays, on public holidays and special occasions). Limited redemptions valid till 31 July 2016 while stocks last. T&Cs apply.
*STAMP: JAPAN
Monster Curry
#B4-52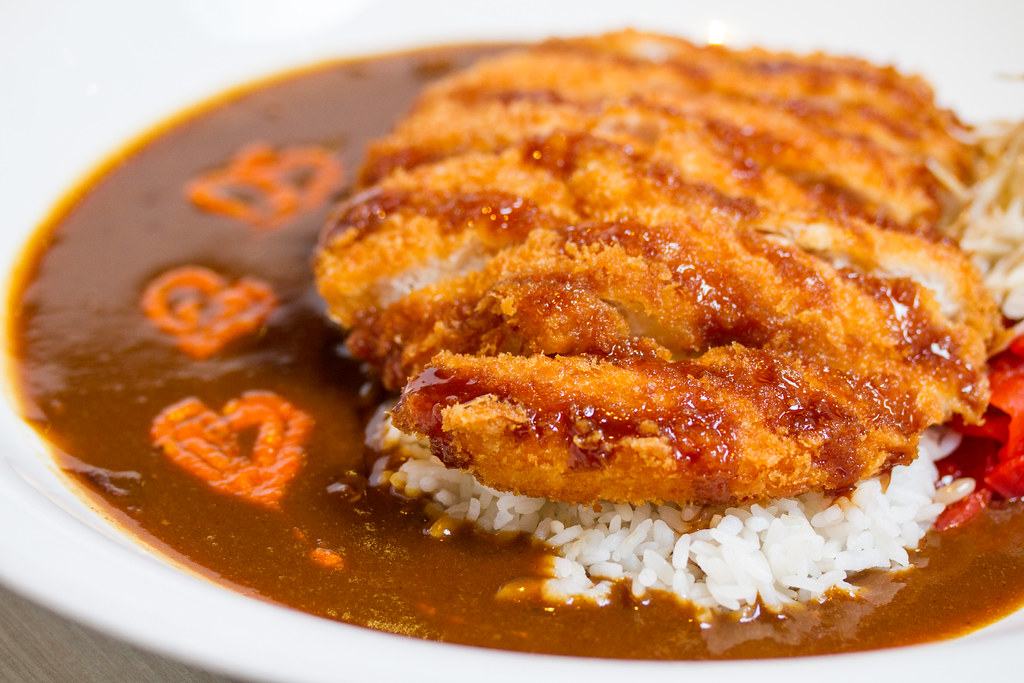 Monster Curry's dishes are good for big eaters who love the spicy challenge. Their curries contain 14 spices and vegetables and are cooked for two days to bring out its sweet and savoury taste. To give the curry sauce an extra kick, Monster Curry serves all its dishes at five different levels of spiciness by adding a hot sauce of chilli padi, garlic, ginger and celery.
We went for the "very hot" Chicken Katsu Curry ($13++). The dish is served on a big 41 cm plate, enough to feed two people or a very ravenous man. At the third level of spiciness, it is still manageable for most spice-loving Singaporeans.
Enjoy 1 for 1 Chicken Katsu at $13. Limited redemptions valid till 31 July 2016 while stocks last. T&Cs apply.
*STAMP: MIDDLE EAST
Tazeh
#B4-64
If you are in a rush, go for Tazeh's wraps for a fuss-free meal. Their International Wraps come in nine different combinations and options of falafel (vegetarian, $9.90), chicken ($10.90) and lamb / beef ($11.90).
We picked Taste of Rome and Senses of Asia for our wraps. The former contains romaine lettuce, boiled egg, Parmesan cheese, cherry tomato, pomegranate seeds and mesclun salad wrapped in a tortilla flat bread, and I enjoyed popping the pomegranate seeds open in between every flavourful morsel of food.
Senses of Asia on the other hand contains glass noodles, black fungus, red kidney beans, chick peas and mesclun salad. The glass noodles give texture to the wrap, while the black fungus and salad adds to the crunchiness.
Enjoy 1 for 1 International Chicken Wrap at $10.90. Limited redemptions valid till 31 July 2016 while stocks last. T&Cs apply.
*STAMP: SINGAPORE
Awfully Chocolate
#B4-50
I always have a soft spot for chocolate, so Awfully Chocolate's Cold Poached Chocolate is a unique treat made of soft and smooth chocolate with light coffee cream in its core. Dig into this soft and smooth dessert and you will be craving for more!
Enjoy 1 for 1 Cold Poached Chocolate at $7.90. Limited redemptions valid till 30 April 2016 while stocks last. T&Cs apply.
*STAMP: HONG KONG
The Peninsula Boutique
#B1-13
Get the best of both worlds with the wide selection of English and Chinese teas at the Peninsula Boutique. The boutique carries tea products sourced from fair trade suppliers in regions such as China, India and Africa.
For Chinese tea lovers, go for the Anxi Superior Tie Guan Yin tea ($26 for 10 tea bags, 25g each), which has a strong distinct flavour and a fragrant orchid-like aroma. The tea leaves are hand plucked from the best harvest from tea growers and are carefully packed to preserve their flavours.
As for English tea connoisseurs, the Peninsular Afternoon Tea ($26 for 10 tea bags, 25g each) will make a good choice to pair with your tea time snacks. This special blend of Indian black teas gives a light and fragrant aroma with a mild sweetness to the palate, and is also served at lobbies of Peninsula hotels around the world. The Peninsula Boutique also carries a range of chocolate pralines and ganaches, making a perfect pairing with their teas and even good on its own!
Enjoy 1-for-1 Peninsula Tea Bags (any flavour) at $26. Limited redemptions valid till 15 May 2016 while stocks last. T&Cs apply.
What are your favourite food choices at ION Orchard? Share them with the hashtag #IONFoodie!
This post is brought to you by ION Orchard.