JB Food Trail Part 2
After our last makan trip to JB, I miss it so much and wanted to do it again. Once in a while, I will look at the roti prata I had in JB, drool over the the red glutinous rice wine mee sua, or crave for the penang rojak… So last December, I called all my makan kakis to do it again. The hungrycow was supposed to join us too but he had forgotten that his passport expired. So please check your passport before making any plans!
There is just this charm in Malaysian street food. Perhaps it is the quality of the food, or maybe because the hawkers are very friendly. I am just attracted to this simple rustic charm. We took a slower pace this trip. The previous one, I think we ate like 10 different stalls. This time, I think we did 11 or something. But I am only picking 8 worthy ones to share it here.
————————————————————————————————————————————————————————–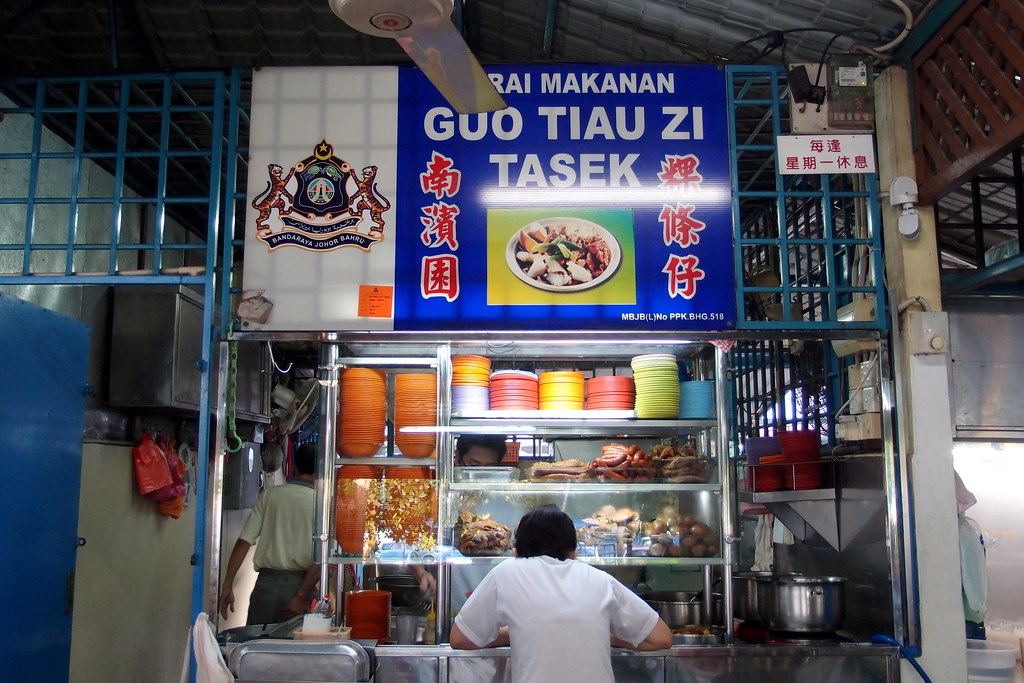 TAMAN TASEK GUO TIAU ZI (南滨园粿条仔)
Our first stop in the morning is hot and soupy Kway Teow Kia (粿条仔) at Taman Tesek. Just like our kway chap, the bowl of kway teow is paired with different braised dishes for your choice such as pig's intestines, pig's skin, braised eggs, preserved vegetables etc. It's easy to fall into temptation of over-ordering so remember to spend your calories wisely.
The pork intestines were thoroughly cleaned and beautifully braised till it is absolutely velverty. The braised pig's skin was soft and smooth. The kway teow is in a clear and tasty herbal broth with fried shallots and spring onion. It has a nice balance of subtly salty and sweet.
Address: Taman Tasek, Johor Bahru (near the Maybank branch)
Map: http://goo.gl/maps/gJGe
GPS: 1.485385,103.722567
Opens from 7am until 2pm
DA JIA FA DUCK (八里半大家发鸭肉)
Eating braised duck under a giant tree, surrounded by housing estates and with the main flow of traffic few streets away… romantic anot! I like the laid-back atmosphere and tranquility at Ba Li Ban Da Jia Fa Duck Rice (大家发鸭肉). Owner Qua took over his father's business and has been running the shop for more than 20 years. His braised duck is really good, and that's why it has been featured in a lot of media.
The owner believes that a good plate of braised duck involves many factors. One, the duck must not weigh less than 3kg. Second, it is important to control the fire when braising the herbal soup. The owner adds in ingredients like star anise, cinnamon, ding xiang etc to braise for about 6 hours. Third, the size of the duck slices matters because it will affect the taste and texture of the meat.
Address: Jalan Kilang Nenas (Jalan Skudai Batu 8½ near Lee Pineapple Factory and SJK Kuo Kuang school)
Map: http://g.co/maps/r4qqu
GPS: 1.523723, 103.6724
Opening hours: 8:30am-4pm
RESTORAN G. CHEONG FUN (金宝手工猪肠粉)
In Singapore, we usually eat chee cheong fun with dark sweet sauce. In some dim sum restaurants, chee cheong fun is paired with prawns or char siew, drizzled with HK style soy sauce. But at Restaurant G. Cheong Fun, their chee cheong fun goes with curry and it tastes really good!
At the stall front, the helpers make the chee cheong fun on the spot with a small mee hoon kueh machine. Every strand of the cheong fun is very smooth and thinner than the usual, which makes it look more like hor fun. Drowned with their curry sauce, I find myself slurping almost the whole plate of cheong fun.
We also had pig skin with curry. The curry was a perfect accompaniment and it was served with some chopped long beans for some extra crunch. The makan kakis love the cockles rendang very much. The sweetness of the cockles married perfectly with the spicy nature of the sambal gravy. Remember to order their milk tea with gula melaka. The addition of brown sugar makes it super shiok!
Address: 176, Jalan Pahlawan 2, Taman Ungku Tun Aminah, Johor Bahru
Map: http://g.co/maps/74j47
GPS: 1.521331,103.663409
Hours: 6:30am to 1:00pm (Closed on Tuesdays)
RESTORAN CHIN CHIN (晶晶云吞面)
Moving on, we went to Restoran Chin Chin which offers a good bowl handmade wanton mee. Started since 1988, the egg noodles are made in house and it is very springy and QQ. It feels softer than the usual noodles. I would call it fat mee sua.
The noodles may be pale looking but when mixed with their homemade chilli sauce, there is a burst in the flavours. It is cooked al dente and you will like the spicy version if you are spicy lover. Nothing fantastic about the char siew, but the wantons have generous minced pork fillings.
Address: Junction of Jalan Lawang and Jalan Kaloi, Skudai (next to MPJBT)
Map: http://g.co/maps/p7wmw
GPS: 1.538014,103.660721
Hours: 730am to 4pm. Closed on Thursdays
KEDAI BAK KUT TEH HIN HOCK (兴福肉骨茶)
My favourite during this food trail is Kedai Bak Kut Teh Hin Hock. They started selling bak kut teh 30 over years ago but they are more famous for their garlic fish rather than bak kut the! LOL! They have just moved to their new venue which is spacious. The owner, Ah Hock, has been running Hin Hock bak kut teh for over thirty years with his wife and is now assisted by his handsome son.
I highly recommend the garlic fish which is a MUST TRY! Customers get to pick and choose the fresh fish they want like it is in a fish market. Our tilapia is first poached in soup before piling up with huge heaps of fried garlic, homemade special sauce and chopped spring onion. Fish can be paired with their special dip which has garlic, shallot, onion, chili padi and soy sauce. But the fish itself is flavourful enough for me to finish a bowl of rice. Fish is sweet and tender!
Not forgetting their bak kut the which is more herbal style. We also had stir fried sweet potato leaves with minced garlic as well as tofu smother with in a blanket of garlic and minced meat. All the dishes are freshly cooked and quick to serve. Ingredients are very simple but it brings out the ultimate flavours.
Address: 74, Jalan Dato Toh Ah Boon, 81200 Tampoi, Johor
Map: http://goo.gl/maps/E29uq
GPS: 1.496813,103.702429
Hours: 08:30am to 4:30pm (Mondays off)
RESTORAN SAM KONG (三江饭店)
Curry mee at Restoran Sam Kong is one of the famous and oldest laksa in Johor. Mr Yong is the third generation owner and his grandfather started selling curry mee since 1930s before Japanese Occupation. His grandfather learnt the trade from a gentleman from Guangxi, China.
Love his chilli pasta which he fries garlic, shallots, lemongrass, belacan and other ingredients. End result is an aromatic paste which is even good on its own. The laksa broth is very smooth and lemak. Not very spicy nor overpowering. I think I can drink up the whole broth. We tried the bee hoon version because they take an effort to air dry their cooked bee hoon before blanching them with laksa broth.
What leaves me a deep impression is the fried fish ball. They make their own fish balls using fresh ikan parang everyday. It is chewy and tastes more like fried sotong ball. They also sell their fish balls separately.
Address: 8-H, Jalan Ungku Mohsin, Kampung Ungku Mohsin, Johor Bahru
Map: http://goo.gl/maps/N8BmU
GPS: 1.514005,103.740173
Hours: 11:00am to 11:00pm (Monday closed)
NINIQ BISTRO & BAKERY
The name Niniq comes from the word ninik, the endearing Indonesian term for "little girl". Its bakery offers homemade hot-off-the oven breads, pastries, cakes and confectionery.
Niniq's top selling cake is their unique CCTV cake. It really looked like CCTV, isn't it? But it actually got a better name lah! Called Chocolate Decadence, the cake has rich chocolate mousse on a spongy chocolate base.
Another must try at Niniq is the durian strudel made using the owner's mum's recipe. It is made with fresh D24 durians with no preservatives. Very creamy durian paste with flaky crust! Nice place to chill out with cakes and coffee. They offer free wifi!
Address: 52, Jalan Setia Tropika 1/24. Taman Setia Tropika, Johor Bahru
Map: http://goo.gl/maps/YQ7Il
GPS: 1.545787,103.713547
Hours: 11:00am to 10:00pm (Closed on Sunday)
MOSHI MOSHI (CLOSED)
[THIS PLACE IS CLOSED] Moshi Moshi is known for their hand made ice creams and they have recently launched some small bites to cater to more dessert lovers. One unique dish is the black sesame glutinous rice ball with gula Melaka filling inside. It is crispy on the outside and chewy on the inside.
I LOVE THEIR MOSHI WAFFLE! Omg, I think that is the best invention ever. Why didn't any dessert shop in Singapore think of this! It has the chewy texture like mochi, yet it is a waffle! I like it sooo much even though I have eaten so much in the morning!
Not forgetting their superb ice cream and sorbet. I like their coconut ice cream which is made with both young and old coconuts. Juice comes from young coconut while the meat is from old coconut.
Address: 19, Jalan Mutiara Emas 10/19, Taman Mount Austin, Johor Bahru
Map: http://goo.gl/maps/qIHvc
GPS: 1.551693,103.785181
Hours: 11:30am to 11:30pm
————————————————————————————————————————————————————————–
I hope you have enjoyed reading this post and it helps you to plan your trip to JB. THANK YOU Tony from Johor Kaki for showing us around JB! Till next time!
Let's build a food community that helps to update the food news online! Simply comment below if there's any changes or additional info to the stalls listed above. We will verify and update from our side. Thanks in advance!