Home-Style Spanish Cuisine at My Little Spanish Place
Located in the Bukit Timah neighbourhood, My Little Spanish Place is a homely restaurant is helmed by Maria Sevillano from Salamanca, Spain and Edward Esmero from Philippines, it boasts a full-fledged menu of Spanish home-style dishes and desserts.
To mark turning three years old, My Little Spanish Place has introduced a Jamon Bar. Styled like a gourmet charcuterie in Spain, the bar showcases legs of Jamon flown in from Spain, which are carved à la minute with each order.
Want some wine? How about a glass of red or white wine sangria at $12 per glass?
They are 5 selections of Jamon in the restaurant: Joselito (Guijuelo / Iberico Bellota / 48 mth+, $25 per 25g), 5J (Jabugo / Iberico Bellota / 30-36 mth, $21 per 25g), Sierra Mayor (Jabugo / Iberico Bellota / 30-36 mth, $16 per 25g), Laudes (Salamanca / Iberico / 18-24 mth $10 per 25 g) and Fermin (La Alberca/ Serrano / 18-20 mth $7 per 25g).
The Tabla de Cinco Jamones ($75) features all five choices on a platter and offers customers the opportunity to taste the distinctive characteristics of Jamon from various regions.
Tortilla de Patata ($8/4 pcs) or Spanish Omelet is the most commonly served dish in Spain. And this is my favourite dish for the night. The traditional spanish egg omelette is cooked with potatoes and onions, served with homemade alioli. This is simplicity itself – as well as being not too creamy and delicious.
Lightly fried jamon stuffed creamy Croquetas ($8/4pcs).
New additions in the menu include the Pulpo de la Casa ($36++) which is grilled fresh octopus leg seasoned with pimenton, sea salt and olive oil, and served with red and green pepper purée. It has an amazing combination of texture and flavours. I was surprised that the meat was so tender and sweet with just a hint of chewiness.
Champinones al Ajillo ($15++/3pcs) features a stack of mushrooms cooked in garlic and olive oil, topped with melted Mahon cheese and shrimp, then glazed with sherry and balsamic reduction. Inspired by Pinchos from a bar in Logrono, (the capital of the major wine region of Rioja) the mushrooms are stacked on a piece of bread and enjoyed layer by layer.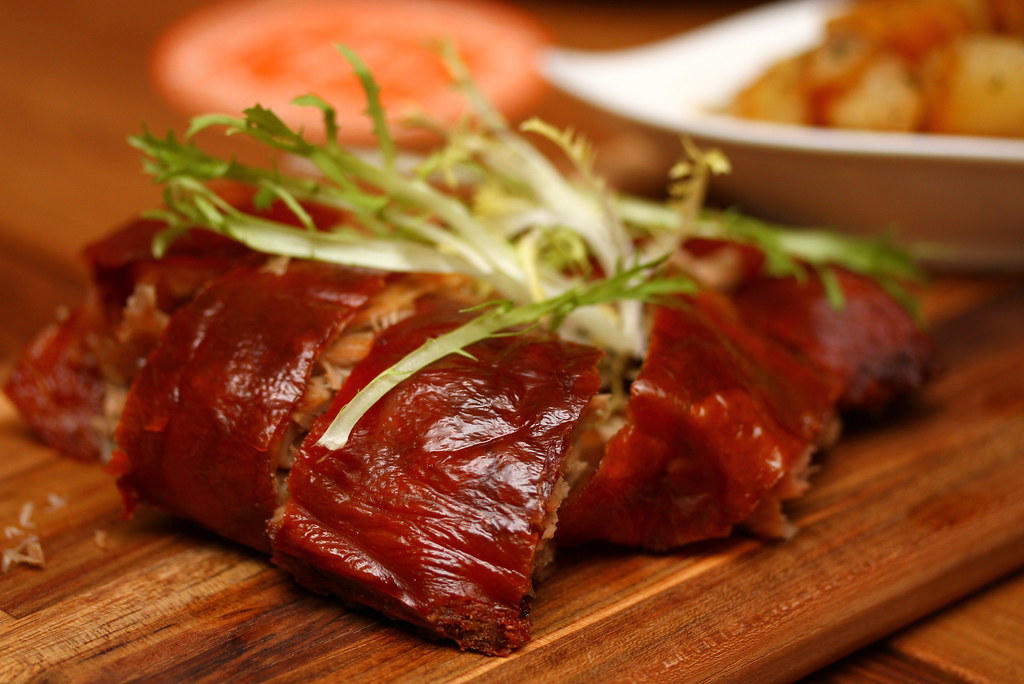 Another spanish signature is Conchinillo Assado ($79++/quarte, $139++/half, $249++/whole). Picture about is a quarter portion. This tender, juicy baby pig is flown directly from Spain. It is slow-roasted in white wine and garlic to perfection. The skin is crispy but the meat is moist.
Paella de la Casa ($49++/small, $88++/medium) is a full flavoured recipe made with special ingredients including langostinas, chorizo, prawns, black mussels and chicken. Using Arroz Cebolla rice from Valencia, the rice has an intense seafood flavour.
The restaurant has limited dessert selection but in a way this is good because decisions are made faster. Churros con Chocolate ($12++) tastes slightly sweet but lightly textured and coated with cinnamon sugar. Tarta de Chocolate ($14++) is a luscious triple layer of crumbly crust, a truffle-like centre, and dark chocolate topping, served with homemade leche merengada ice cream, which is a cinnamon flavoured ice cream topped with caramel cookie crumbs. And there's Almond Ice Cream too.
My Little Spanish Place has also introduced a Spanish Despensa (a Spanish pantry) at the restaurant where they have sourced for more than 40 selections of uniquely Spanish ingredients, such as the Arroz Cebolla paella rice ($13.50 per 1kg pack), an array of Pimentons (Spanish paprika), olives stuffed with salmon, canned sardines and an assortment of Spanish cheeses including Mahon, Manchego, Romero and Murcia cheeses.
You can also enjoyed weekend brunch on Saturdays, Sundays and Public Holidays from 930am to 3pm. It offers casual home-style favourites such as Torrada de Jamon, hamburgers, Huevos al Horno etc.
My Little Spanish Place
Address: 619 Bukit Timah Road
Tel: 64632810
Opening hours: Tue – Fri 6:30pm – 12:00am; Sat – Sun 12pm – 4pm; 6:30pm – 12:00pm
Website: http://www.mylittlespanishplace.com.sg/
Let's build a food community that helps to update the food news in Singapore! Simply comment below if there's any changes or additional info to My Little Spanish Place. We will verify and update from our side. Thanks in advance!