Nimman Soi 9 – A Taste of Authentic Thai Food in Tampines!
I have good news for you, because Jane Thai is finally back in town!
However, this is not the Jane Thai Kitchen of Orchard Towers.
Some backstory about Jane Thai Kitchen. Jane was the owner & chef of a restaurant called Jane Thai in Orchard Towers. A few years ago, Jane sold Jane Thai and flew back to her hometown in Chiangmai, Thailand, to retire. However, restless spells and the urge to cook brought her back to Singapore and she opened a new store! Jane is now behind Nimman Soi 9, and ready to whip up a storm once again.
When we reached Nimman Soi 9, I saw Jane in the kitchen busy at work. A strong smoky aroma was wafting from the kitchen.
Curious, I asked Jane how she got around to naming her stall. It turns out that Nimman Soi 9 is the name of the street where she resides in Chiangmai.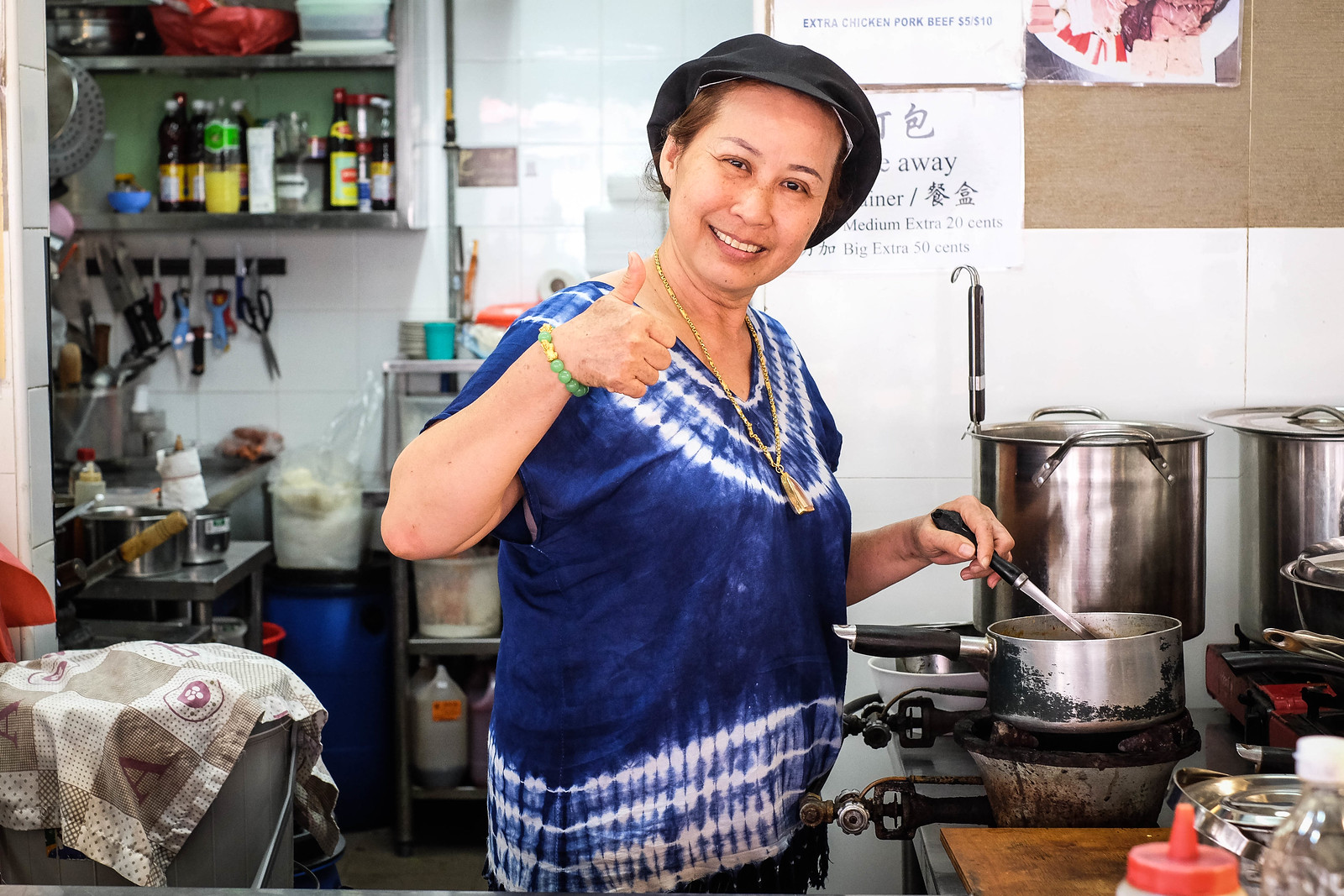 At Nimman Soi 9, food is served in a 'tze-char' style. The food is no doubt authentic, and lovingly handmade by Jane.
We heeded Jane's recommendations, and ordered Prawn Cakes ($10/4 pieces), Chiangmai Sausage ($6/plate, $28/kg), Kway Chap ($3.50), Basil Chicken with Rice ($6), Thai Fried Kway Teo with Chilli ($5.50), Thai BBQ Pork ($8), Fried Kang Kong with Bean Paste($6) and Steamed Seabass with Lemon ($22).
While the Steamed Seabass with Lemon, Fried Kang Kong with Bean Paste & Thai BBQ Pork were nice, I felt that there was nothing to shout about.
But the prawn cakes were oh so heavenly! Before I dive into the details, I have to let you guys know that I saw Jane making these Prawn Cakes by hand. She first formed a patty with the prawn mixture and then shaped it into a doughnut. She then coated the prawn cakes with bread crumbs, before frying them. Jane told me that she minces and mixes the prawn mixture by hand, so you can be sure that you're not getting mass-produced prawn cakes that come from a factory.
I was really blown away by the taste of the prawn cakes — they were very savoury and carried a hint of sweetness! The firm and springy prawn cakes had chunks of prawns incorporated, so expect crunchy bits! The prawn cakes come with a Thai chilli dip which complemented the cakes perfectly and made them even more delicious!
Another dish that we had was Kway Chap. The soup had a mild taste of herbs which was not too overpowering. I am not a big fan of kway chap, but I can tell that the offals were fresh.
The Thai Fried Kway Teow served here is something else. It was flavoursome and packed some heat as well. The prawns were fresh and the lovely wok hei made the dish irresistible. I thoroughly enjoyed every bite.
Spicy food lovers, you are in for a treat. We tried the Basil Chicken with Rice which consists of rice, basil minced chicken and a fried runny egg. We could tell from the first bite that Jane made sure that the dish was REALLY spicy. The flavourful minced pork made our mouths burn but we loved every bit of the experience.
Next up, we had the Chiangmai sausage. Let me tell you: it was a FLAVOUR BOMB. I am not kidding. If there was a way to describe the Chiangmai sausage, I'd describe it as the epitome of Thai cuisine, in a sausage. I could taste and smell lemongrass and turmeric. I could not help but have a few more pieces of the sausage, much to the dismay of my colleagues!
After the scrumptious meal, I learnt that Jane sources her ingredients from Thailand. Jane's dedication to the authenticity of her dishes is truly commendable.
Jane is back to serve her diners the best of Thai cuisine at Nimman Soi 9. It is without a doubt that I will be back here again.
MissTamChiak.com made anonymous visit and paid its own meal at the stall featured here.