17 Traditional Nonya Kueh in Singapore that makes a Superb Snack
Kueh(s) can be sweet or savoury bite-sized snacks, with its roots traced back to Malay and Indonesian cuisines. The Peranakan Community who were early Chinese settlers in Malacca and later, Indonesia, adapted the original Malay and Indonesian kueh(s) as part of their cuisine. Eventually, it is the Peranakans who popularized the term, "Nonya Kueh" as part of their cuisine in Singapore. With modernization and more creative brains popping up in the culinary world, kueh(s) that are made with traditional techniques and authentic ingredients are hard to come by nowadays. Relish in 17 traditional Nonya Kueh that gives you a sense of nostalgia.
Ang Ku Kueh is a small round or oval shaped pastry with soft sticky glutinous rice flour skin wrapped around a sweet filling in the centre. It is moulded to resemble a tortoise shell and is presented resting on a square piece of banana leaf. It's believed that Ang Ku Kueh brings prosperity. The common and original fillings are sweet bean paste and peanuts but you can find unique flavours nowadays such as durian, coconut and more.
Getuk Getuk originated from Java and is made from tapioca. The tapioca is first peeled, boiled, then mashed. This is followed by mixing the tapioca with grated coconut, a pinch of salt and palm sugar which gives the kueh a brownish colour and more distinctive taste. It is finally topped with more freshly-grated coconut.
Harum Manis, which literally means "fragrant" and "sweet", is a steamed sponge cake that's similar to apam but embellished with slices of bananas. The steamed cakes are enriched by the warm caramel-like sweetness from gula Melaka and wafts of aroma from the cooked bananas. If you're up for a challenge in the kitchen, this is an excellent option to use up leftover bananas.
Kueh Bingka Ubi means baked tapioca cake. This traditional Nonya kueh is fragrant, semi-soft, slightly chewy and goes perfectly well when paired with a cup of tea. It has an inviting aroma from the pandan leaves, eggs and coconut milk hence its rich and flavourful taste. You'll be glad to know that Kueh Bingka Ubi is relatively easy to make compared to other Nonya kueh(s) as you simply mix all the ingredients together before baking.
The authentic Kueh Bugis is served wrapped in pandan leaf to give a sweet scent, on top of the already fragrant, thick layer of coconut paste covering the green dough. It's hard to find great tasting Kueh Bugis nowadays as Singapore becomes more modernized. Just the thought of sinking our teeth into the sticky and chewy steam glutinous rice flour with sweet coconut paste is enough to make us drool.
Kueh Dadar has juicy palm sugar flavoured grated coconut fillings enveloped within a piece of green crepe. Pandan leaf is the core ingredient of Kueh Dadar and the green exterior is made of a batter coloured with natural pandan juice extracted from pandan leaves, hence the tempting sweet fragrance. There's a slight crunch when you bite into the soft exterior of Kueh Dadar due to the grated coconut fillings inside.
Kueh Kosui is made from tapioca starch and rice flour and sweetened with gula Melaka and sugar. Pandan leaves enhance the fragrance of this kueh and it is usually served with freshly grated coconuts for more texture and taste. The contrasting colours of the grated white coconut and the bouncy brown kueh also make this dish more pleasing to the eyes.
Kueh Lupis is one of our favourite kueh(s) due to its subtle sweetness, with a hint of savoury flavour and slight crunch from the coconut shavings. Glutinous rice is cooked in pandan juice before being wrapped into a triangular shape in banana leaves. It is further boiled in water for approximately 3 hours before the banana leaves are removed and the kueh is rolled in generous amounts of fresh, slightly salted coconut shavings. It is finally drizzled with thick gula Melaka syrup, sinful but so good!
Kueh Salat is a two-tiered Nonya dessert with a base of steamed glutinous rice weighted down by a thick layer of custard flavoured with freshly squeezed coconut milk and pandan juice. Coconut milk is the key ingredient in making this kueh as it imparts a creamy taste when cooking the glutinous rice and making the custard layer. In general, making kueh(s) is a very laborious job. You first need to soak the glutinous rice before steaming it then pound the pandan leaves, squeeze the juice, beat the egg, make the coconut custard and finally, steam it again. Kueh Salat takes hours to make but is devoured within minutes!
Don't confuse Kueh Talam with Kueh Salat though their colours look almost similar. Kueh Talam also has two layers, a top white layer made from coconut milk and rice flour and a bottom green layer made from rice and mung bean flour with natural green colouring from pandan leaves. This kueh is also done by steaming. We find Kueh Talam not as chewy as Kueh Salat and it has a softer texture.
Kueh Lapis is the most common Nonya dessert you find in Singapore and the easiest to recognize and remember due to its colourful layers. Some people call this "thousand-layer cake" but it actually only has 9 layers. This was a snack we used to eat a lot during our childhood days! It is made with tapioca, rice flour and coconut milk before being steamed. Kids would enjoy peeling and eating this kueh layer by layer, and this eating style actually mirrors a saying – in life, you cannot take short-cuts and have to go through one obstacle after another so eating it layer by layer is somewhat similar.
Most Nonya kueh(s) are sweet but whenever we crave something savoury, Lemper Udang is the ultimate choice. It is made from glutinous rice, infused with coconut milk and flavour from pandan leaves. While the glutinous rice is steaming, grated coconut will be fried in a dry wok to bring out its fragrance before being added as a filling into the glutinous rice and lastly, wrapped in banana leaves. Sometimes, spicy shrimp paste is also included in the fillings to give that fiery kick.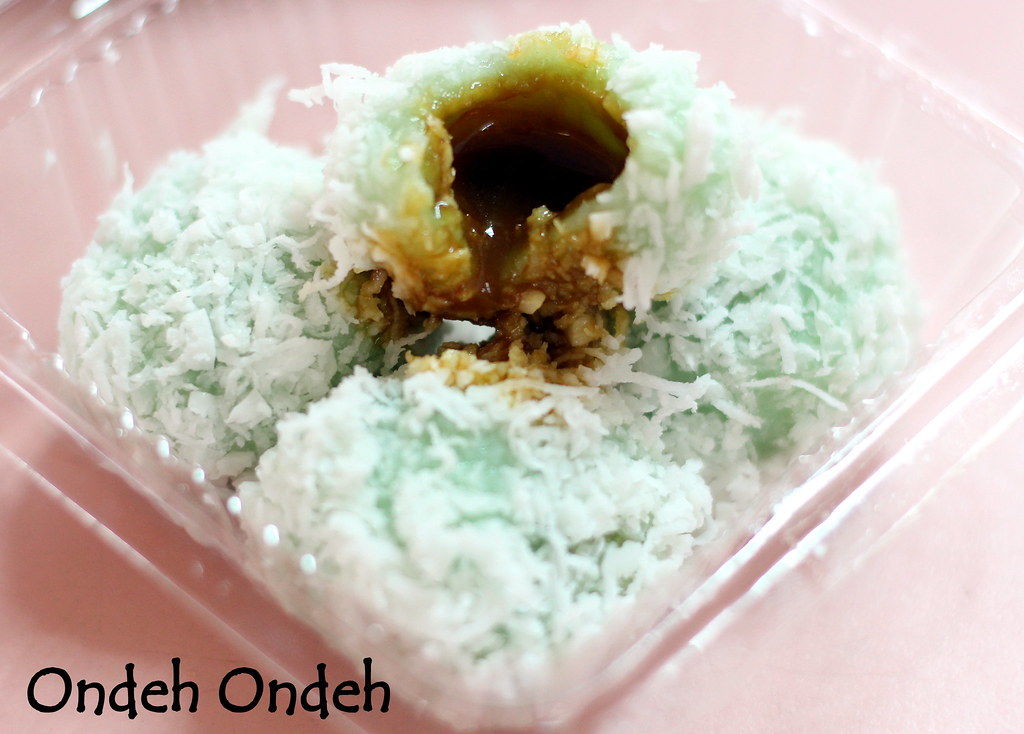 Another favourite of ours is the Ondeh Ondeh which are made from either sweet potato or glutinous rice flour. These cute little balls are infused with pandan juice and filled with gula Melaka or palm sugar before being rolled in some freshly grated coconut. The palm sugar that's in the middle literally bursts in your mouth when you take a bite! They are sweet and delicious and it's impossible to stop at one!
Ongol Ubi is quite simple to make and it's common for families to make this at home together. It is made from tapioca, infused with flavours from pandan leaves. It is steamed before being rolled in grated coconut. Different ingredients are used to create attractive colours for Ongol Ubi to ensure that this kueh is healthier due to the natural colouring.
Sagu Melaka, in Malysia, is called Kueh Bronok and made from sago balls and shredded coconut. Our version consists of three layers of distinctive colours. The white top is made from coconut milk while the middle is infused with gula Melaka to give its brownish colour and the base infused with rose syrup to create the pinkish colour.
Talam Ubi is literally translated to steamed tapioca cake and the main ingredient for the top white layer is coconut milk while the bottom layer consists of grated tapioca, grated coconut and palm sugar. This is a soft, chewy kueh which leans towards the sweeter scale for desserts. Simply delicious!
Yam Talam contains the similar ingredients as Talam Ubi, with the exception of yam! The top tier is similarly made from coconut milk but the bottom tier features yam as its main ingredient, hence giving this kueh a purplish finish. The texture is similar to Talam Ubi as well but it doesn't taste as sweet as Talam Ubi.
There you have it – 17 traditional Nonya kueh(s) for you to pick and choose from, whenever your craving for Peranakan snacks kicks in! We can never stop popping balls of Ondeh Ondeh into our mouths and we also enjoy Kueh Lapis, Kueh Lupis and a couple of others as well. These Nonya kueh(s) make a good breakfast, as well as, afternoon snack! We hope you enjoy indulging in these Nonya kueh(s) as much as we do.
MissTamChiak.com made anonymous visits and paid for all the kuehs featured here.