Otto's Deli Fresh – Delicious Comfort Food in a Hipster Neighbourhood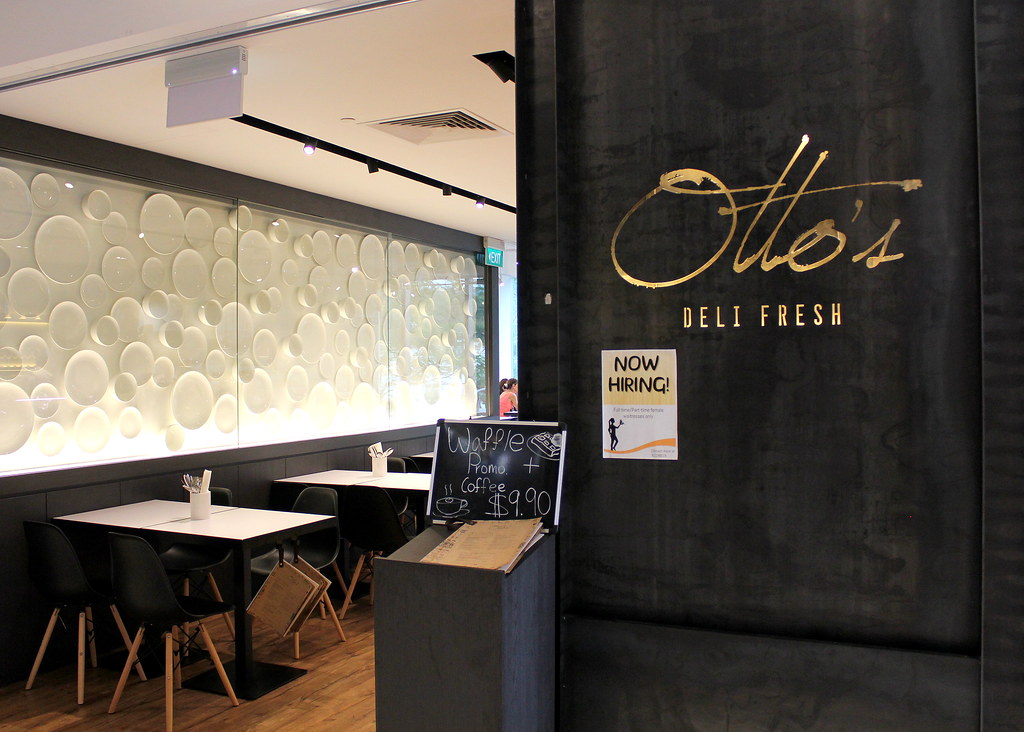 70-year-old Swiss-born chef Otto Wiebel has finally opened his first restaurant Otto's Deli Fresh in Holland Village. Working in the F&B industry for more than 40 years, Chef Otto has been a veteran of top kitchens including that of Shangri-La Hotel in Singapore and Hong Kong. He co-founded F&B consultancy Ottscott with celebrity chef Scott Webster.
In his new restaurant, Chef Otto dishes up recipes that he himself loves, personally selects produce from suppliers that he knows and trusts, eschews middlemen so prices can be so accessible for the quality being offered, and offers a platform for young talents of the industry.
The deli section offers meats ranging from Japanese Kobe Beef to Dorper Kamb from Australia, New Zealand Kaipara oysters, Hokkaido scallops, French and Swiss chesses, olive oils from Greece and Portugal, some of the most exceptional seasonal truffles and many more. In time, he will introduce house-made charcuterie and sausages using his personal recipes.
For dine-in customers, you can begin your meal with a starter such as the Button Mushroom Soup ($8.50) and the Grilled Frementle Octopus Salad ($17). The former consists of button mushrooms, dried porchini, and caramelized onions, served with bread. Chef Otto made the mushroom soup from scratch. We found the creaminess of the soup just right, and the bread that's fluffy on the inside with charred edges outside complements the soup very well. What you see is only two-thirds of the actual portion.
The latter, on the other hand, contains spinach, green apple and salad dressing. The octopus has been flown in from Fremantle and all of us know that Fremantle is famous for their fresh seafood. The octopus turned out tender, yet retaining its slightly chewy texture.
Dining here with a big group puts you at advantage as you'll be able to try more varieties of items on the menu. Hand Cut Fries ($6) is accompanied by three sauces, namely barbeque sauce, Mentaiko mayonnaise and salted egg yolk cream. Each dip has its own uniqueness and the barbeque sauce gave a nice tangy finish, making it different from what we get elsewhere. The salted egg sauce has a stronger curry flavour while the light and creamy Mentaiko mayonnaise was our favourite. These fries are so addictive you'll finish it without realizing.
Our mains came in the form of burgers, sandwiches and pastas. The burgers and sandwiches are usually served with salad and fries. We had the Pulled Pork Burger ($19), consisting of Citrus cabbage apple slaw, fries pickled cucumber and barbeque sauce. The pulled pork has been cooked using sous-vide method for 5 hours, hence its fork-tender texture. The cabbage that's marinated with yuzu came a little too strong such that it over-powered the flavours of the pulled pork.
We had lots of beef at Otto's Deli Fresh, beginning with The Pressed Beef Steak Ciabatta ($20) has air-dried beef, roquette, browned red onion, pickles and gruyere cheese smacked in between the ciabatta sandwich. The sandwich was a tad too hard for our liking but the cheese enhanced the flavours of this dish, making it very appealing to cheese lovers. Next up was the Beef Stroganoff Fettucine ($17) includes button mushrooms, sour cream, cornichon and parsley. The fettucine was cooked al dente and the beef was thinly sliced but still succulent and tender.
As Otto's Deli Fresh offers all-day-dining, it's an ideal place to unwind after work with grilled items such as the Southern Highland Grass Fed Beef Hanger Steak ($22) and the Heritage US Kurobuta Pork Rack ($39). We preferred the latter as it's simply grilled with only salt and pepper. Its natural flavours were brought out perfectly with a nice smokey finish.
Finally, the stomach space that we've been saving for desserts was satisfied with the Burnt Banana Waffle ($11.50) and Crème Brulee ($8.50). The waffles boast a crisp exterior with a fluffy and light interior. It's topped with two generous scoops of peanut butter gelato, served with a freeze-dried banana. As sinful as this dessert was, we decided not to think about diets. A mouthful of the soft, not mushy, charred banana with the peanut butter gelato and waffle gives a mixture of textures and flavours in your mouth. Such a sweet indulgence! However, the Crème Brulee, made of Madagascar vanilla and pineapple rum compote was a little too sourish for our liking.
It was a rainy Wednesday when we headed down for lunch, making it the perfect weather for a cup of Otto's Favourite Hot Valrhona Chocolate ($9.50). It consists of sea salt, crunchy pearls, hazelnut cream and espuma. Each sip was full of richness and the chocolate was so thick that we couldn't stop at one cup! We like that it isn't too sweet and that its flavour reminded us of Ferrero Rocher chocolates.
There's something for everyone at Otto's Deli Fresh. Whether you want to begin your day with coffee and a hearty brunch or relax and recharge during dinner hours, this deli-restaurant is a place to go to. We also like that it's conveniently located just a stone's throw away from Holland Village station. Residents living around the neighbourhood, look forward as there's now a new deli for you to purchase fresh produce and condiments.
Note: This is an invited tasting.