Pan Pacific's Surf & Turf – The Best Of Both Worlds
Get ready to explore the land and high seas – all you need is a fork and knife. Aptly named the Surf & Turf buffet at Pan Pacific Singapore's Edge restaurant, this specially curated buffet segment features premium cuts of meat and the freshest of seafood. Held every Tuesday night, diners will be treated to some of the best delicacies that the world has to offer – from meat to seafood, and everything else that fall between the food spectrum.
And more than just having a wide range of ingredients that traversed the land and sea, the versatility also come from the spectrum of culinary methods used to prepare these dishes. From quintessentially local flavours that come in the form of Chilli Crabs and Pork Ribs Soup, to exotic Mexican classics like the Chicken & Shrimp Jambalaya, the buffet menu is sure to transport you on a literal gastronomical adventure around the world.
Perhaps the Chicken 65 & Squid neatly encapsulated what Surf & Turf at Edge had to offer. The Indian-influenced dish was aromatic and delectably crispy, featuring chicken chunks and baby squid that was deep-fried in a spice batter.
Heming the heart of the buffet line is a live grill station where cuts of beef, lamb, pork, salmon, garlic prawns and chorizo sausages are freshly grilled and served straight to your table. You get the smoky char on all your food, without any of the lingering smell. We'd suggest skipping the pasta station and going straight to the station that serves up Wok-fried Fish Noodles With Roasted Pork And Yellow Chives, which was a dish that reminded us of ee-fu noodles coated with wok hei flavour.
Pearls Of The Sea
There is no better measure of the freshness of the seafood than ones where you have them served on ice (and also raw). Minimally seasoned, the bright orange prawns were fresh and succulent while the Alaskan king crabs were plump and sweet. Other selection include freshly shucked seasonal oysters, queen scallops and poached Bouchot mussels.
Fresh cuts of sashimi are also available upon request. From salmon slices to octopuses and tuna, seafood lovers will be able to savour the flavour of these dishes in their most purest of form – and the freshness speaks for itself.
Gems Of The Land
As extensive as their seafood selection, the sheer amount of meat choices will not disappoint as well. Hoping on the chirashi trend, the Wagyu Beef Chirashi is a brand new creation to the buffet line, where torched wagyu beef cubes, tamagoyaki, asparagus, fish roe and scallions lay atop a bed of fluffy rice. As tempting as it may, resist filling your tummy with seconds to make room the rest of the food.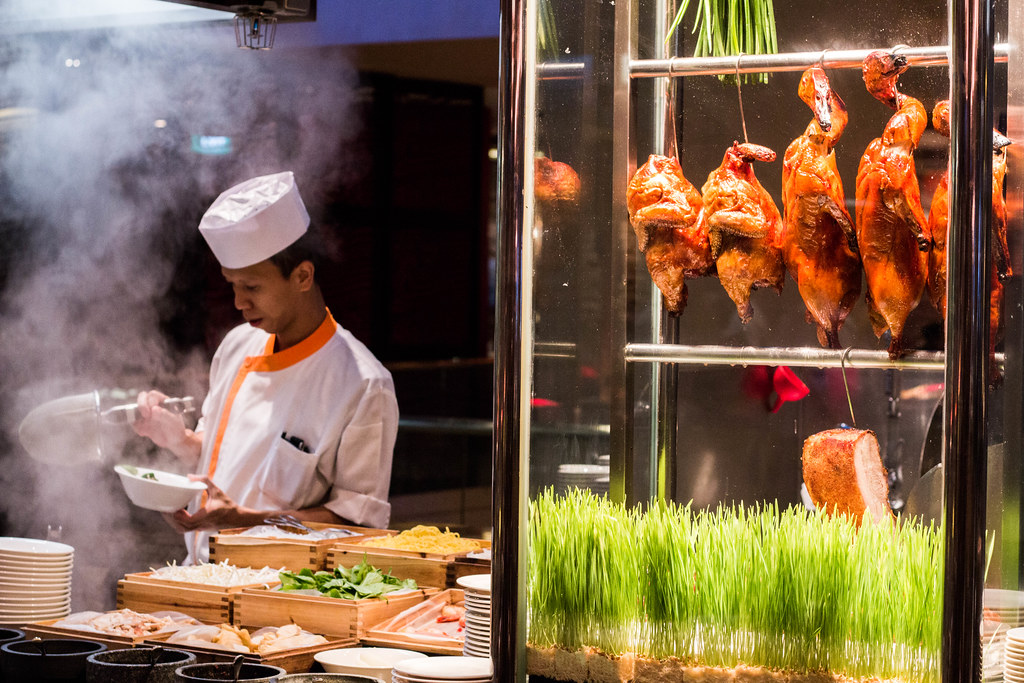 There are many live stations at the Surf & Turf, one of which serves up freshly sliced char siew and the roasted delights like pork and duck. The roast pork we had was pretty decent, with a crispy crackling and a good meat-to-fat ratio. We also had some laksa, which was nice and rich, and we appreciated the nice gentle heat of the gravy.
You'll want to dip those meat from the buffet line with some of their Homemade Signature Sambal. These little saucers of condiments might be lying aside quietly, but their fragrance packs a fiery punch. We especially enjoyed the Salted Fish Sambal, where a robust fish fragrance accompanied the chilli blend to create something tasted great even with some plain rice. Beef lovers can enjoy the Slow-roasted Wagyu Rump With Herb Gremolata, but we actually preferred their fully cooked meat creations like the fusion Spicy Bulgogi Beef Pizza With Shrimp that came on a wafer-thin crunchy base.
The Roasted Whole Baby Lamb With Mezza Condiments made us do a double-take when we first spotted it lying on the buffet line. Undeniably a decedent way of serving lamb, the slices were surprisingly moist and gamey taste was well masked.
And Those That Lie Between
Despite not falling within with category of 'sea' or 'land', no effort has been spared in the luxurious selection of sweet treats. The usual cascading chocolate fountain makes an appearance, and we liked the fruit cocktail as the side that comes with a spiked concoction that made for a naughty spin on the usual fruits.
Their signature Durian Pengat is great for lovers of this notorious fruit, but our favourite was the a la minute Waffles with batches that were made fresh. Top these fluffy quadrants with a scoop of ice cream for a classic sweet treat that's done just right. Our tip? Munch on some decadent Dark Rum Soft Chocolate that felt like a spiked chocolate gummy, or snack on the selection of nyonya kuehs while waiting for your waffles to be ready.
And in the same indulgent vein as their savoury mains, many of their desserts are just as indulgent as well. Some came with an ostentatious sheen of gold, like this Gluten-free Chocolate Brownie that was practically calling out to us. The bittersweet fudgey chunks was rich and intense and oh-so-worth-the-calories. Well, at least it's gluten-free so that makes it healthier.
So if you're in the explorative mood (and appetite), try the new Surf & Turf at the Edge for a meal that transcends land and sea to bring you the best – from the sea and land and everything else in between.
The Surf & Turf buffet at Pan Pacific Singapore runs every Tuesday from 6:30pm – 10:30pm.
Price: S$78 (per adult) and S$39 (per child)