River South (Hoe Nam) Prawn Noodle – One of the better prawn noodles in Singapore
River South (Hoe Nam) Prawn Noodles is one of the better prawn noodles in Singapore. I have probably eaten here during my childhood days as my parents stay in Potong Pasir. However, I have not gone back since then, not till my editor from Lian He Zao Bao recommended me to have a meal there.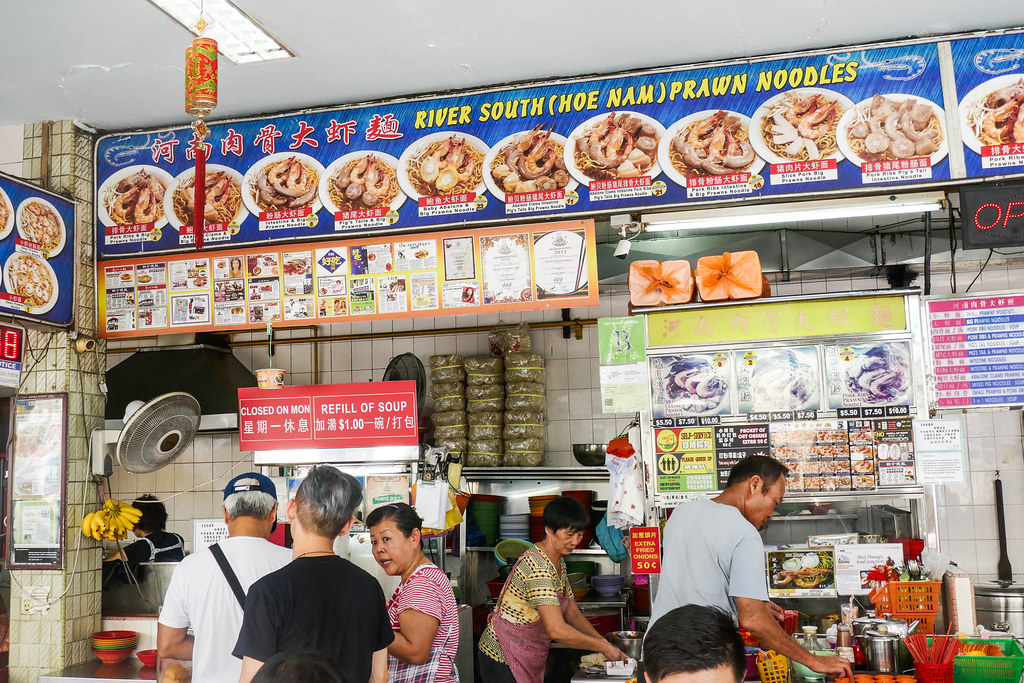 The stall was established in 1971 by Png Kim Soon, and taken over by his children in 1989. Two sisters, Ah Zhu and Ah Lian, run the stall in the day while their brother takes care of the evening crowd.
The stall "Hoe Nam" was named after the province where their ancestors lived. In the past, they only have prawn noodle soup but the menu expanded to include dry noodles and eventually way more dishes like big prawns, pork ribs, pig tail and baby abalone. Today, River South (Hoe Nam) Prawn Noodles has more than 20 different dishes, with prices starting from $4.50.
The essence to a good bowl of prawn noodle is its broth, and perfection can come in many forms. The stall first fry the prawn shells in hot oil before simmering it with pork ribs for more than 8 hours. Frying the prawn heads help to extract the juices, resulting in a dark broth with an orange hue. Each sip is rich and addictive.
We ordered the Prawn Noodle Soup with Baby Abalone ($10) and Prawn Noodle Dry with Pork Ribs ($5.50/$7.50/$10). I personally prefer the dry version as the noodles and soup are separated so the soup tastes sweeter than noodle soup. The medium sized prawns are fresh, crunchy and cooked till perfection. With an option of yellow noodle or bee hoon, the dry noodles are tossed in their homemade chilli sauce and generously sprinkled with fried shallots.
The centre part of the prawns have been de-shelled, leaving the prawn heads and tails intact. This makes it easier to peel the prawns. For every order, a small paper box will be provided for you to throw your prawn shells.
River South (Hoe Nam) Prawn Noodles
Address: 31 Tai Thong Crescent,Singapore 347859
Mobile: 6281 9293
Opening Hours: 6.30am to 4.30pm, 6pm to 4.30am. Closed on Mondays
The Chinese version of this article was published in Lian He Zao Bao on 5 Nov 2016. MissTamChiak.com made anonymous visit and paid its own meal at the stall featured here.
Let's build a food community that helps to update the food news in Singapore! Simply comment below if there's any changes or additional info to River South (Hoe Nam) Prawn Noodles. We will verify and update from our side. Thanks in advance!