Two Wings @ Bukit Merah – One Just Isn't Enough!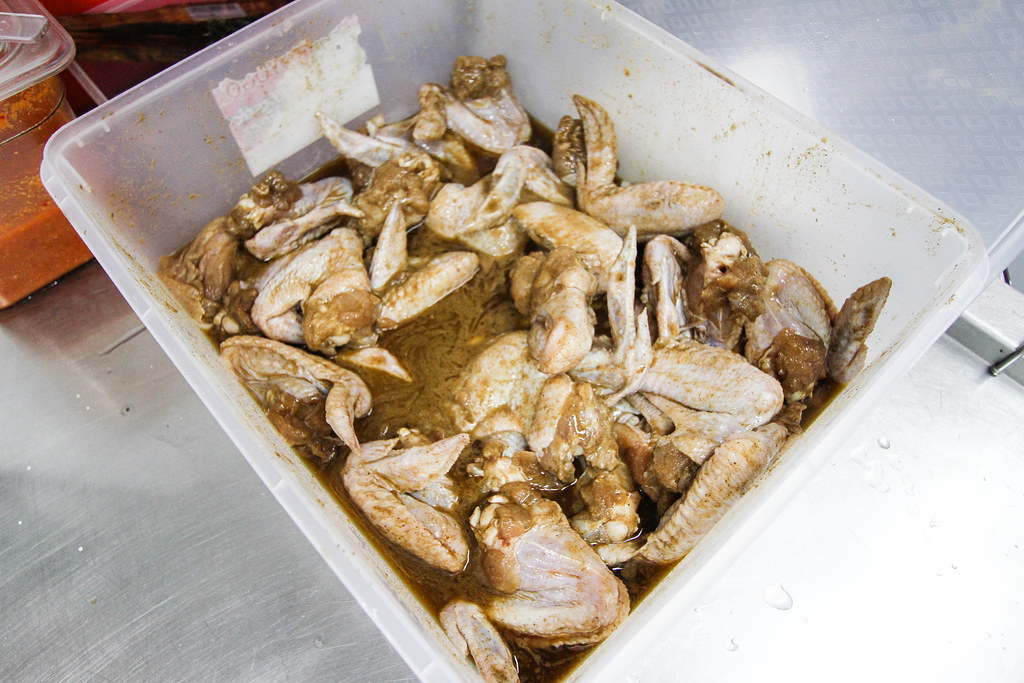 Two Wings is the talk of the town. Owner Jeremy learnt to fry chicken wings from his granduncle who used to own a stall in Toa Payoh Lorong 5. After getting the recipe from his granduncle, he started selling the wings in a humble canteen stall at Kallang. That was his training ground for a good 6 months. He learnt the techniques, and fine tuned it further to cater to the current tastebuds.
Using fatter wings from Brazil, the wings are marinated overnight. Even though the ingredients are not disclosed, but I can clearly smell the aroma of sesame oil. Every morning, Jeremy will meticulously massage the wings to drain off the excess marinade. I guess the massage really works because what you get is beautifully fried wings with juicy meat.
The Chicken Wings ($8.50/4pcs, $12.50/6pcs, $24/12pcs) are only freshly fried upon order. What arrived on our tables are beautifully fried till golden brown. As you can see from the pictures, there is literally no traces of oil on the skin.
But as I sink your teeth into the meat, I first get the crispy crunch from the skin before the tender and moist meat. The wings are marinated for at least a day before dredging it with flour mixture. Jeremy demonstrated his way of eating the wings, that is to first pull off the cartilage and bones before eating it boneless. What's the best thing? You don't have to wash your hands with soap after eating! Just wash it with tap water. How cool is that!
Something worth mentioning is the homemade garlic chilli sauce which is similar to the ones we eat for chicken rice. It's more zesty with strong garlic glavour. Superb pairing with the wings!
Two wings also offers other chicken parts such as Drumstick, Thigh, Breast ($9/2pcs, $12/3pcs), as well as Spring Chicken ($9.90/half, $15.90/whole) and Chicken Cutlet ($8), all these come with two sides. My favourite is chicken cutlet which has a crispy exterior with tender meat. Plus, I don't have to use my hands to eat! Get Cheese Fries ($4.50) too with thick fries coated with mayo and cheese.
We had the honour of entering into Two Wings' kitchen to take a look at their wings and frying process. Thank you Jeremy for the hospitality. This is our first video, please share any feedback if you have any. If you love these videos, let us know too!
Two Wings
Address: Blk 119 Bukit Merah Lane 1 #01-40 Singapore 151119
Tel: +65 9667 0368
Opening Hours: Tue-Sun 12pm – 3pm; 6pm – 11pm. Closed on Mon
Let's build a food community that helps to update the food news in Singapore! Simply comment below if there's any changes or additional info to Two Wings. We will verify and update from our side. Thanks in advance!