Capricci Italian Restaurant
Because our
staycation
was at The Club @ Ann Siang, the boyfriend decided to have our dinner at
Capricci
, which is within walking distance. Located in a shophouse in Tanjong Pagar area, the small humble italian restaurant was nicely decorated with a warm cozy feel. We were served a basket of complementary warm
toasted focaccia
with assorted spices. A pleasant way to start the dinner.
We shared a bowl of Mushroom Soup ($14) which was ordinary.
Appetiser was John Dee grass fed beef tenderloin carpaccio ($24) with truffle oil, shaved parmesan and arugula. The beef tartar was soft with a mild truffle flavour. When paired together with the parmesan and arugula, it was enjoyable.
Boyfriend ordered Lemon zest perfumed risotto ($24) with pan seared fresh scallop and black cherry sauce as his mains, which unfortunately, was not to our liking. The lemon zest came too overpowering, in fact close to the bitter taste and it covered the wine reduction totally. Perhaps it was an acquired taste.
My plate of Homemade spaghetti alla chitarra with lobster and tomato sauce ($39) tasted much better. The spaghetti was cooked al dente and they were generous with their lobster meat.
Lastly, we shared their Oven baked suckling pig Sardinia style with jumper sauce with roasted potatoes ($42). The suckling pig was very crispy and it felt like I was eating a piece of cracker. The meat was sandwiched between the crispy skin and the roasted potatoes which tasted quite good when go together.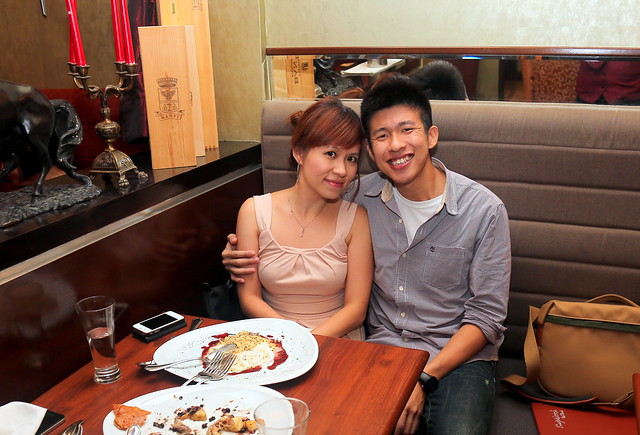 We didn't stay for dessert but went Maxwell to eat beancurd pudding instead. Overall it was quite an enjoyable dinner except for the risotto which we didn't really like. Should have tried some of their pizza because it smells really good!
Capricci
Address: 27 Tanjong Pagar Road
Tel: +65 6221 6761
Let's build a food community that helps to update the food news in Singapore! Simply comment below if there's any changes or additional info to Capricci. We will verify and update from our side. Thanks in advance!