Tsukada Nojo at Plaza Singapura – I queued for 1hr 30mins to drink this beauty pot!
I HAVE FINALLY TRIED BEAUTY POT! I am probably the slowest but never mind, better late than never right? I was waiting for the craze to die down before heading there. So one day, while we were shopping at Plaza Singapura, we decided to try it. Reached the restaurant at 6.30pm, looking very confident that I would be able to enjoy my steamboat soon. "Have to wait for about 1 and a half hours. Please write your name on the waiting list if you are okay to wait," said the waitress. WHAT?! My eyes nearly popped out. I thought I was very early for dinner and moreover, it was Sunday! Aren't everyone suppose to be at home eating dinner with their family? LOL.
So after waiting for 1.5 hours, we finally had our dinner! I wanted to give up halfway but the boyfriend said he wants to see what's so great about this soup that has to make him wait so long! LOL! Tsukada Nojo's house specialty is the Bijin Nabe ($25 per pax, the pot serves a min 2 pax) with golden Jidori chicken soup. The Bijin Nabe is a combination of vegetables, seafood and chicken cooked in their golden Jidori chicken soup. The "Golden Jidori chicken soup" is imported from their own farms in Japan. The soup is stewed for about 8 hours until the chicken bones are fully dissolved and then allowed to cool to room temperature. The soup then turns into a smooth silky pudding that is super rich in collagen.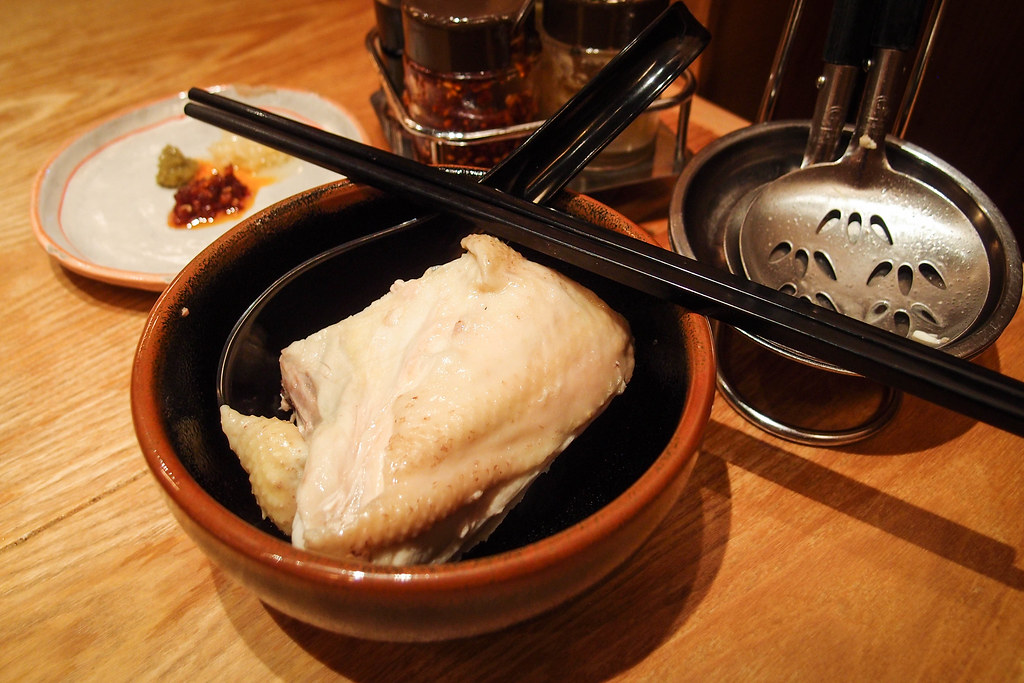 Bijin Nabe is served with chicken, prawns and various vegetables, followed by noodles from 3 choices: thin egg noodle, thick mochi-mochi noodle, rice noodle. As it was our first time here, the friendly waitress explained to us the way to eat Bijin Nabe.
First, we waited for the collagen pudding (which really looks like tau hway) to melt fully. Then we take a sip of soup with their Ochoko (sake cup). Then, we stirred the soup and picked out a piece of chicken. I complemented the chicken with 4 different types of spices: chilli shoyu, negi ginger oil, yuzu pepper and red chilli oil.
Next, the waitress puts the tori tsukune (chicken meatball) into the soup. Then, yellow zucchini, lady's finger, watermelon radish, baby corn and yuzu are added. Followed by the leafy vegetables such as deep fried tofu, sunflower sprout, black fungus, mushrooms, baby sweet potato leaves and fresh shrimps.
When we are almost done, then we add the noodles. We picked the thin egg noodles. I don't know if this soup is really going to give me beautiful skin a not, but the soup is very rich and flavourful. The first refill is complimentary, but subsequent refill is chargeable.
We also ordered some ala carte dishes like the Homemade Tamagoyaki ($4.50) that is sweet Japanese omelette.
The shop is also famous for its Nikumaki Onigiri, which is bite-sized rice ball wrapped in pork and baked in soy sauce. We ordered one with cheese ($3.80 for 1pc) and another one with yuzu pepper & mayo ($3.80 for 1pc). Honestly, I think it was nothing fantastic.
Our dinner comes with a plate of complimentary sweet plum jelly. One of the Japanese lady was busy drawing the plates at the kitchen. Impressive! Wonder how many plates must she draw everyday.
For first timers, we were all given a business card as the restaurant's Assistant Manager. A stamp will be given for each dinner visit. If you visit more often, you will be promoted and with each promotion, you will get a free dish. Very smart marketing idea!
Note that the Bijin Nabe is only available from 5pm onwards for Plaza Singapura outlet (Chinatown Point Branch serves Bijin Nabe the whole day). For lunch, they serve a variety of ramen dishes. Come early as it is super long queue. No phone reservation is allowed and a limit of 1hr 30mins for dinner time per table applies.
Tsukada Nojo
Address: Plaza Singapore #03-81
Tel: 6336 5003
Opening Hours: Lunch 11:30am – 3pm; Dinner 5pm – 10pm
Website: http://tsukadanojo.asia/
Let's build a food community that helps to update the food news in Singapore! Simply comment below if there's any changes or additional info to Tsukada Nojo. We will verify and update from our side. Thanks in advance!