7 Best Restaurants for a Christmas Feast and Pretty Log Cakes
If you haven't already realised.. Christmas is COMING! It's my favourite time of the year, as it's the perfect occasion to gather with my loved ones around a table of decadent roasts, luxurious dishes, and irresistible desserts. Here are 7 of the best places for an opulent Christmas feast. It's time to gather your troops and make reservations!
This Christmas, Ash & Elm at InterContinental Singapore is sending out a myriad of festive signatures as it does every year. Taking centre stage is the Charcoal-Grilled Beef Tenderloin with Port Wine Sauce, Roasted Tom Turkey with Citrus Fruits and a Honey Ham and Spinach Flatbread. Bask in the festivities, while enjoying these gourmet treats which are sure to impress. Feast to your heart's content but don't forget to save some space for the decadent Yule logs, Gingerbread Bread and Butter Pudding, and Pistachio Apricot Cinnamon Tart. Isn't it the most wonderful time of the year?
If you love beautiful things, especially desserts, this cake will have you going round and round in glee. The Carousel Fruit Cake is a playful and intricate rendition of a good ol' classic Christmas log cake. Made with rum and brandy-infused candied fruits and chocolate, the cake is pleasing both to the eyes and palate. This is seriously the prettiest Christmas cake I've ever seen! Other Christmas creations include the Memories of Christmas log cake which brings together a sugar-free chocolate mousse, vanilla pear compote, and passion fruit jelly. It also has the cutest little see-saw sitting on it. How nostalgic!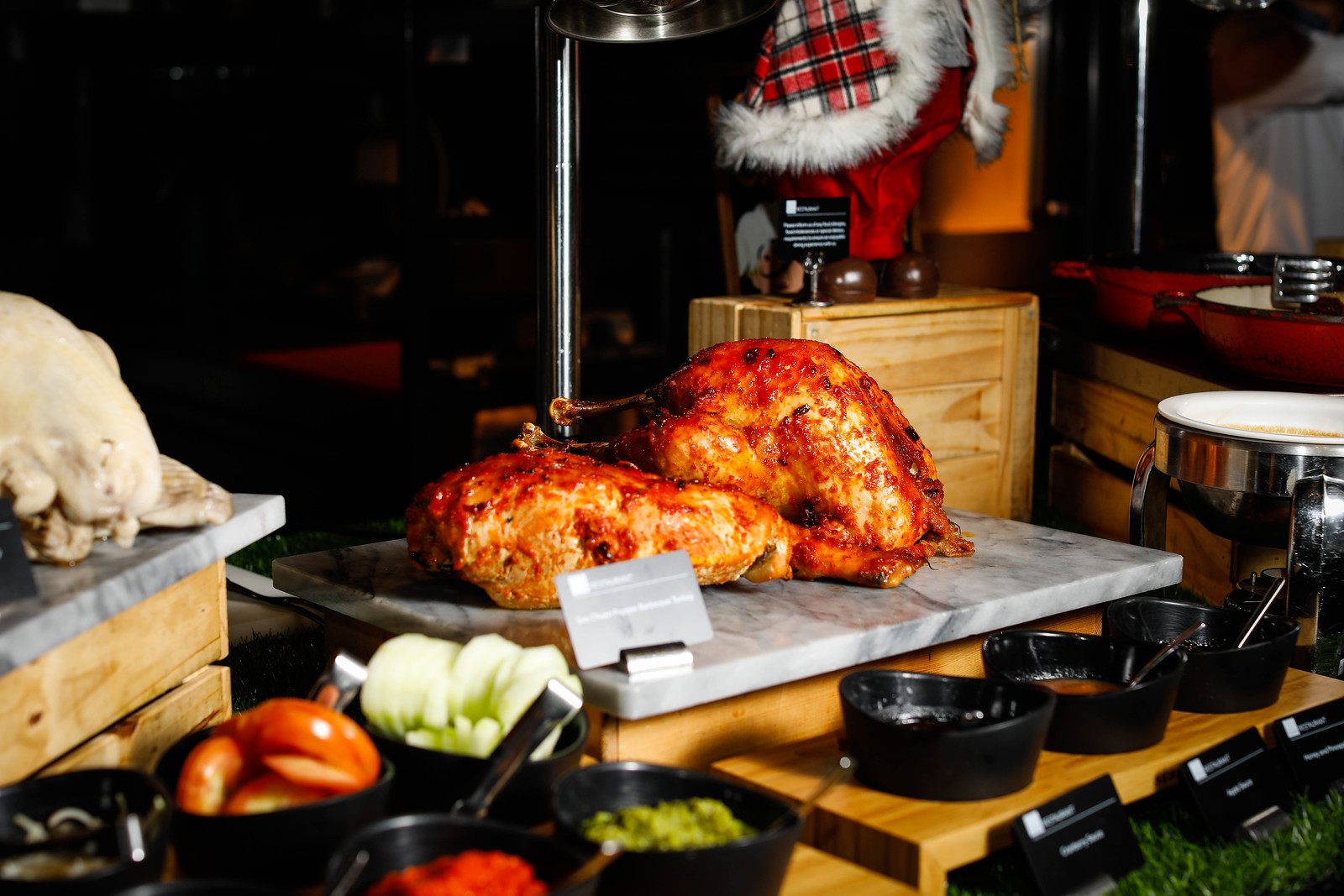 All diet plans will officially be put on hold as this is the season to wine, dine and find every reason to celebrate. Festive traditionalists can tuck into a lavish Christmas spread at Lime Restaurant at PARKROYAL on Pickering including Whole Baked Turkey, Honey & Citrus Glazed Ham, Wagyu Beef Rump and Oven-Baked Pork Prime Rib with Spicy Tomato Paste.
With the celebration reaching a crescendo by this time, Lime Restaurant is pulling out all the stops with brunch and dinner sittings available on both days and carolers performing live. Joining the menu for the extensive Festive Buffet are Italian Bocconcini with Cherry Tomato Salad, Roasted Beef Cheek with Juniper Berries, Red Wine Jus & Red Pepper Corn, 12-Hour Slow Roasted Rack of Lamb in Garlic & Thyme Jus, Honey & Citrus Glazed Gammon Ham, and Wagyu Beef Sirloin with condiments.
A festive feast is never complete without Christmas desserts. With no less than four variations of the Christmas log cake, those with a sweet tooth might have a problem deciding on a flavour. Fans of the Pandan & Coconut Log cake and Durian Gula Melaka Yule Log from last year's catalogue can look forward to their return while Lime introduces the Black Forest Yuletide Log and Belgium Dark Chocolate with Yuzu Yule Log for those who prefer the classics.
UOB and DBS cardholders enjoy 20% savings from 1 to 30 December 2018 (except 24 and 25 December 2018).
Christmas at Marriott Cafe is always a fancy affair. Apart from the essential turkey, hams, and roasts, decadent foie gras and fresh seafood are key characters in the luxurious spread. Exclusively available during Christmas eve's dinner (Adult: $160++/pax) and Christmas day's lunch (Adult: $138++/pax), and dinner (Adult: $160++/pax), are tantalizing delicacies such as Pan-fried Foie Gras with Chutney, Lobster Thermidor, and Roast Turkey with Dried Fruits & Chestnut Bread Stuffing. Wow, it really is the season to be jolly.
Singapore Marriott Tang Plaza Hotel is also introducing this stunner of a log cake — Raspberry Gula Melaka Coconut Log cake($68) — this year. The sweet fragrance of Gula Melaka just pairs so well with the tartness of raspberries and lovely aroma of coconut. We also love that the cake is dressed in a vibrant shade of red, an outfit befitting the festive joy. The delightful Roasted Pistachio Cream Cheese Log Cake($68), and the White Forest Bûche de Noël($68), are brilliant options as well!
Café Mosaic's Festive Christmas Dinner (Adult : $98++/per pax, Child: $49++/pax) runs from 12 – 25 December. Expect a buffet line that features plenty of seafood favourites such as freshly shucked oysters, Queens Scallops, Tiger Prawns and Black Mussels. The Roasted Whole Turkey with Stuffing & Cranberry Sauce and Honey Baked Ham with Pineapple & Raisin Sauce are seasonal highlights that are not to be missed as well. Round off the night with warm Bread and Butter Pudding, freshly baked Assorted Christmas Cookies and the essential Christmas Log Cake.
Enjoy 20% off Christmas Eve Dinner and Christmas Day Lunch & Dinner with reservations and full payment made by 15 December 2018.
Are you ready to go on a sweet trip with Santa's Sleigh ($88)? Carlton Hotel has outdone itself with their newest log cake which boasts spheres of strawberry, mango, and pear mousse cake resting atop a handcrafted chocolate sleigh. This new log cake is almost too pretty to eat!
If you are one for the classics, then Carlton's all-time favourite Homemade Hazelnut Chocolate Panettone ($30) is made for you. A moist and fluffy bread loaf studded with brandied cherries, and completed with a rich chocolate hazelnut ganache, this classic is a winner.
Items are available for purchase at Carlton's Christmas lobby booth and online at www.signatures.carltonhotel.sg. DBS/POSB, OCBC and UOB cardmembers can enjoy 25% off Homemade Hazelnut Chocolate Panettone and 15% off all Christmas Goodies.
Nothing beats a warm table overladen with hearty savoury dishes and an abundance of sweet treats from Cedele. Slow-roasted on the day to order, the Rosemary Turkey ($150) comes with an organic Jasberry black rice and mushroom stuffing, turkey gravy, and cranberry strawberry sauce. The turkey was so aromatic, and tender! The Beef Pot Pie ($75), Lobster & Crab Quiche ($65) and Pesto Pine Nut Sun Ray Tart ($38) are great options to complete your Christmas feast.
Christmas is not Christmas without a Yule Log sitting in the middle of the table. Cedele's logcakes are made with the same clean bakes ethos as Cedele's breads — organic unrefined sugar, and unbleached flour freshly milled every week. There are no additives, artificial flavouring, dough improvers, chemical additives, or trans fats.
The new logcake flavours this year include the Rose Lychee Martini Logcake ($69), Chocolate Matcha Logcake Block ($75) and Yuzu Matcha Pavlova Logcake ($70). My favourite? The Rose Lychee Martini Logcake of course! Think a soft and delicate vanilla cake laced with martini, and rolled with lychee chunks and lychee rose-infused cream cheese. Chocolate fans will definitely enjoy the Chocolate Matcha Logcake Block which features a light and fluffy matcha cake layered with matcha cream and rich chocolate truffle, enrobed in a rich chocolate ganache.
Bring Christmas back home with Neo Garden Christmas Potluck Party! Save on the hassle of creating a mess in the kitchen and enjoy with your loved ones in the comfort of your own home. Mix and match from 28 different choices of sweet and savory dishes to create the combination best suited for your guests. Dishes include the Traditional Roast Turkey ($98.80+, 4.5kg), Honey Garlic Whole Salmon ($138.80+, 1.5kg), Giant Éclair Platter ($38.80+, 8") and even a Christmas Tree Pull-Apart Bread ($58.80+), there is bound to be something for everyone!
Standing out from the choices is this beautiful Rainbow Cempedak Yule Log ($68.80+, 1kg). Combining a vanilla cream with cempedak bits, the gorgeous log cake hides a surprisingly rustic element to it. Just make sure you get your Instagram shot before you place it on the dining table. Other great log cakes to choose from include the Chocolate Fudge Yule Log ($46.80+, 1kg) and the unique Ondeh Ondeh Yule Log ($68.80+, 1kg). Send your house party invitations and make your orders already!
Spice up your Christmas with this Asian-inspired Turkey from Ellenborough Market Café. Prepared with "Kam Heong" Sauce that's made with dried shrimp, curry powder, shallot, curry leaves, chilli and lemongrass, this juicy and succulent turkey is great for anyone looking for an Asian rendition of the Christmas classic. The buffet feast ($58++/pax for lunch, $78++/pax for dinner) at Ellenborough Market Café has a number of mouth-watering creations but the Braised Short Rib of Beef with Winter Mushrooms and Almond Stollen are the highlights for me.
Not such a big fan of buffets? Savour Blue Potato's 4-course Epicurean Festive Set Dinner ($88/pax). Tuck into Crab Louie Salad, Pumpkin Bisque, Grilled Grain-fed Tenderloin with Lyonnaise Potatoes and Baby Root Vegetables and more.
The handcrafted Ivory Valrhona Yule Log with Pandan Roulade, White Sesame Mousse and Azuki Red Bean ($65) makes a great gift, and also a wonderful dessert for your Christmas celebrations. Forget the usual chocolate sponge log cake, and grab this Swissôtel Merchant Court Singapore's original creation, which marries white sesame with pandan and azuki red bean. What a unique creation that's chock full of lovely flavours!
Looking for a place to unwind? Head down to Crossroads Bar and sip celebratory cocktails such as Blushing Santarina and Santa's Devotion. Tease your taste buds with the Christmas Tapas Medley (Pork Sausage, Hokkaido Scallop, Skewer Prawn and Drunken Mussels), Mini Turkey Burger Charcoal Bun and Deep-fried Hokkaido Scallop with Squid Ink Batter. Tapas are priced from S$16 onwards.
For reservations for Ellenborough Market Café, Blue Potato or Crossroads Bar, call +65 6239 1847/1848 or email [email protected]
Aren't you excited for Christmas! I sure am! Biting into a turkey leg, helping myself to multiple slices of log cake, all in the company of friends and loved ones. Remember to get your reservations in as early as possible to avoid disappointment. Here's wishing all of you a merrily yummy good time this Christmas and may your holiday season be filled with laughter and cheer!