11 Reasons Why You Should Dine At Emporium Shokuhin
Marina Square is a Japanese food heaven with the opening of Emporium Shokuhin – Singapore's first integrated Japanese Emporium. Featuring a live seafood market, a beef dry-aging facility, a Japanese Gourmet Grocer and 8 unique dining concepts, discover the largest Japanese food retail and dining experience all in one location at the mall's new wing. Here are 11 reasons why should visit.
1. Grill the most premium A5 Japanese Miyazaki Beef
If you wish to savour top quality grilled meat at attractive prices, head to Gyuu+ Yakiniku Grill. Given Emporium Shokuhin's superior direct sourcing capabilities, it means the prices are lower as compared restaurants elsewhere. Here you can get an extensive array of premium beef, including dry-aged beef from its on site aged beef facility. The dry-aging process takes place in a special temperature and humidity-controlled glass room, enabling the flavour and texture for raw meat to be improved.
What is a must try here? Of course it's the prized A5 Japanese Miyazaki beef! One bite and you can experience the taste and flavor that spread out in the mouth. That smooth and buttery texture… oomph! Gyuu+ has specially imported customised 'smokeless' grill tables from Japan. Yay, no smell and smoke from the cooking process!
Although excellent eaten on its own to taste its true flavours after grilling, the meats can also be eaten with sea salt and two homemade signature sauces for dipping; umami-laden miso marinade or a sweet and smoky yakiniku sauce
*GOOD LOBANG!* Gyuu+ Yakiniku Grill is currently having A5 Miyazaki Wagyu Buffet till 31 Aug 2016. Indulge in unlimited A5 Miyazaki Wagyu, grass-fed beef steak, USDA Prime Karubi, Scallops, Salmon, dessert and more.
Mon – Thu: $88++ (Adult) / $48++ (Child)
Fri – Sun, eve & day of PH: $98++ (Adult) / $58++ (Child)
Limited period: 28% discount
Mon – Thu: [after discount] $63.30++ (Adult) / $34.50++ (Child)
Fri – Sun, eve & day of PH: [after discount] $70.50++ (Adult) / $41.70++ (Child)
90mins dine in. Child price applies to children 0.9m – 1.4m height.
2. Freshest Chirashi Don
Come to Emporium Shokuhin, of course must go for their sashimi at Senmi Sushi Bar because it's sooo fresh! Their seafood is sourced directly from Japan's wholesale seafood markets at competitive prices.
Start with Bluefin Tuna, Uni & Tobiko Bomb ($22++) that is perfect for sharing among a small group. The taste profile is simple and clean, augmented with well-cooked Hokkaido rice. To enhance the umami quality of the pristine ocean gems, the chefs have concocted a bonito-infused soy sauce to complement sushi. The bonito has been stepped in premium shoyu for 14 days. EFFORT.
Adding a little fun to your meal, you can create your own Chirashi, starting from $15++. The Chirashi Don is breathtakingly beautiful with a base of salmon, tamago and cucumber. So many colours, so many textures, so much fish! Psst… don't say I never share… Mondays and Fridays are when their shipment of 50kg Bluefin Nagasaki Tuna arrives! Means it is the best time to have your sashimi then!
The atmosphere is casual and you can choose to sit at the sushi counter or booth seats. Orders can be placed directly on the iPad menus provided at each table.
3. Slurp the Special Ultimate Blend Ramen
My favourite restaurant in Emporuim Shokuhin is Burosu Honten Gyoza & Ramen. Translating to "broth shop", you can customise your ramen by choosing the doneness of the ramen noodles, spiciness level and strength of broth. They have individual booths where the waitress will serve through a screen from the kitchen. How fun, you won't know when will they appear! Haha!
We went for the Special Ultimate Blend Ramen ($18.80) using a solid soup base rendered by simmering shrimp, lobster and crab shells for at least 11 hours.
Die die must try is the homemade Seafood Gyoza ($7.80) made with delectable seafood fillings in soft gyoza wrap. Each dumpling is so moist and succulent. Dip it with Japanese la yu (chilli oil) and vinegar to complement your meal.
4. Go on a romantic Japanese dining date
Takujo Japanese Dining is a modern Japanese restaurant where you can indulge in omakase-style multi-course meals, or partake in expertly-executed seafood and meat specialties in an intimate setting. The all-encompassing menu spans appetizers, soups and sashimi to nimono (braised dishes) and yakimono (grilled dishes) among others.
We went for the Hon Maguro Kama Shioyaki ($68 – $88++). Imported from Uwajima, the huge Bluefin tuna cheek is grilled and served with ponzu sauce. It is luxuriously soft and flavourful. Don't forget to add a dash of lemon for a refreshing taste.
Here, you can also see the live seafood trolley brimming with the recommended catch of the day. Simply select the seafood and opt for one of many preparation methods including sashimi, steamed, grilled and even fried.
5. Swish your favourite meat in a bubbling broth
Shabu-shabu is still one of the most appealing Japanese culinary traditions as evident from the crowd in Tsukeru Shabu-Shabu. You have your own individual gleaming cooking pot and you can swish your favourite meat in the bubbling broth like a chef! The broths are carefully developed to achieve fullsome yet balanced flavour; and dipping sauces calibrated to subtly enhance the meats and vegetables. Choose from a range of Japanese and Asian broths, including tonkotsu miso soup, tan tan sesame broth, tsukeru konbu seaweed broth, tom yam broth, ginseng chicken soup and savoury tomato broth.
We picked the light konbu seaweed broth which helps to draw out and enhance the flavour of the pork and seafood. To kill two birds with one stone, the Meat & Seafood Platter for 2 ($68++) works wonders. Each tender slice is infused with mild konbu sweetness and tastes so good that I can't stop eating. Pair your Shabu-Shabu with their specially concocted sauces for that extra oomph.
* ANOTHER GOOD LOBANG! * Tsukeru Shabu-Shabu has upgraded their Shabu-Shabu Buffet with a free flow dessert counter, and is also having a 19% discount till 31 Aug 2016. Enjoy free flow Australia Wagyu Beef, Kurobuta Pork Belly, desserts and more.
New Buffet Menu
Mon – Thu:
$48++ (Adult) / $28++ (Child)
Fri – Sun, eve & day of PH:
$58++ (Adult) / $38++ (Child)
Enjoy 19% discount till 31 Aug 2016!
Mon – Thu: [after discount]
$38.90++ (Adult) / $22.90++ (Child)
Fri – Sun, eve & day of PH: [after discount]
$48.90++ (Adult) / $28.90++ (Child)
90mins dine in. Child price applies to children 0.9m – 1.4m height.
6. After work indulgence with oysters and wine
Life becomes better instantly with oysters and wine. Indulge in the perfect combination of sparkling wines and seafood at Umi+Vino Seafood Wine Bar – the contemporary European-Japanese Seafood Wine Bar. Relish freshly shucked oysters, signature chilled seafood platters or savour the preserved natural flavours of fresh seafood done A La Plancha style on a hot grill.
We were slurping half a dozen of freshly shucked Live French Oysters ($6 – $8++ each) that is flown in twice a week. They are firm and deliciously creamy. They also offer 3 course set lunch from 11.30am to 3.30pm. Consisting of Soup, Main and Dessert, we tried one of the main course – Hokkaido Scallop + Konbu Pasta tossed well to perfection.
If you wish to have a casual break from all the shopping, get your girlfriends to join you for High Tea Set ($22++). Available from 2.30pm – 6pm daily, each set comes with 1 pot of tea or a cup of Long Black or 1 glass of draft beer.
7. Soft and fluffy Hokkaido Milk Roll
It is so true when they say woman always have a second stomach for dessert. Even though we were full to the brim from so much food, I can't resist desserts, let alone Hokkaido Milk Roll ($4.80 per slice). Newly launched a month ago, the pillowy soft sponge cake is filled with generous amount of cream made using Hokkaido milk. It has a delicate sweetness which pairs well with a cup of handcrafted coffee for a lazy afternoon. They have a huge range of freshly baked Japanese-style pastries at the bakery as well.
8. Takeaway bentos on your busy days
Rushing for time? No problem, go straight to the quick-service takeaway concept Ready-To-Eat section. Select your meal from tantalising selection of prepared on-the-premises salads, sashimi and sushi boxes, bento sets and tasty onigiri (Japanese rice balls). Their bento is served warm instead of the usual cold sets.
Air flown twice a week, order the Hokkaido scallops, Chutoro or Salmon fillet blocks and get the staff to slice it on the spot for takeaway. There are also high tables within the area where diners can enjoy their quick meals after making payment for their food.
9. Shop for the freshest live seafood
Step into the first live and chilled seafood market right here in downtown Singapore for the freshest catch imported from Japan, U.S.A., Australia and Europe. You can choose from the wide variety of live crustaceans, fishes and shellfish like Alaskan King Crabs, Boston Lobsters, Dungeness Crabs, Abalones, Flounders and much more from 22 specially constructed sea-water tanks.
10. Japanese Gourmet Grocer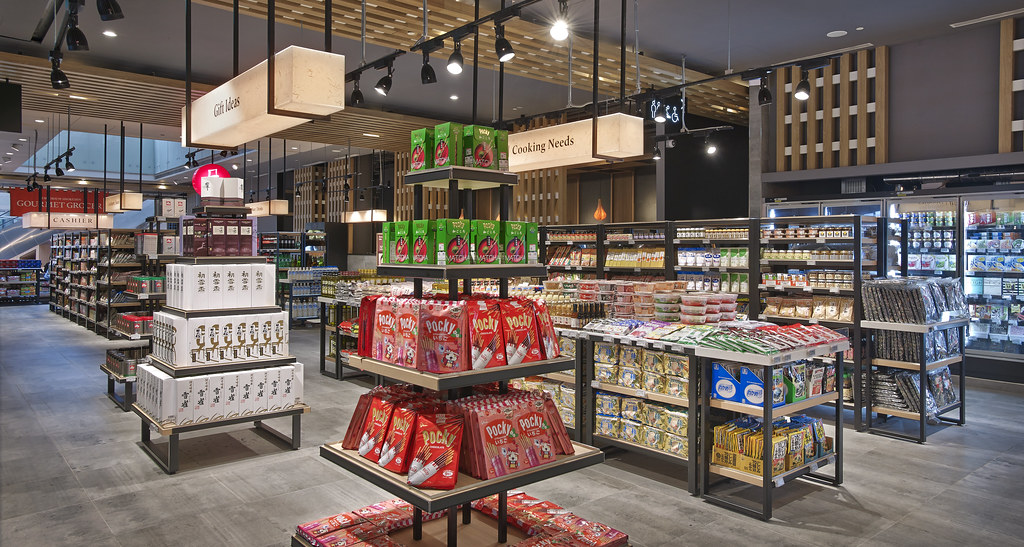 Be transported to Japan when you stroll along the aisles of the Japanese Gourmet Grocer and explore the bountiful Japan-imported products such as premium seafood, dry-aged beef, seasonal fresh fruits, vegetables, sauces, condiments and much more.
You can also bring home superbly tender dry-aged prime beef, directly imported from Japan and U.S.A., and aged by their beef specialists within their customized facility. A5 Miyazaki Beef is the most premium beef brought in by Emporium Shokuhin.
11. Ehime Specialties Corner
Be sure to stop by the first Ehime Specialties Corner in all of Asia, right within the Grocer. All Ehime products are new to Singapore and specially air-flown from the prefecture.
DINING TREATS (7 – 31 JULY 2016)
From Monday to Thursdays, spend $30* at any F&B/Food outlet to redeem a $10 dining voucher. On weekends (Friday to Sunday), spend $60* at any F&B/Food outlet to redeem a $10 Marina Square
*Limited to first 3,000 diners, while stocks last. T&Cs apply. For more information, visit: http://www.marinasquare.com.sg/previews/happenings/promotions/
Let's build a food community that helps to update the food news in Singapore! Simply comment below if there's any changes or additional info to Emporium Shokuhin. We will verify and update from our side. Thanks in advance!
JOIN ME FOR MARINA SQUARE FOOD TOUR!
Indeed, Marina Square has got so many restaurants for you to choose from. From Japanese to western and even local cuisine, you are definitely spoilt for choices. If you love to eat and take photos, join me on a food tour as we savour some of the best dishes the mall has to offer. 15 readers will be selected. During the session, participants are encourage to take many delicious photos as one lucky winner will walk away with attractive dining vouchers. Restaurants we will be visiting include The East Bureau, Bangkok Jam and Emporium Shokuhin. IT'S FREE!
Date: 17 July 2016 (Sunday)
Time: 2 to 5pm
How to register? Please email to [email protected] the following details:
1. Your name
2. mobile number
3. Instagram / Facebook account
4. if you will be bringing a plus one to the food tasting
Selected winners will be informed via email by 14 July 2016.