Patbingsoo – 14 Seoul-Good Dishes that Fans of Korean Food Must Try!
All you Korean food enthusiasts staying in the North will no longer have to head to town to get your Patbingsoo fix. The Korean Dining House has launched its largest flagship store in the refurbished Northpoint City, so heartlanders can easily satisfy their cravings for delicious Korean street food and addictive bingsus!
Patbingsoo's inviting and chic interior allows it to stand out from the rest of the eateries in Northpoint City. We were greeted by vibrant murals and rainbow-themed tables that boast built-in infrared cookers, the moment we walked in. Every chair has a storage compartment so you can keep your dining space clutter-free.
Making its debut in Patbingsoo's menu is the Tteokbokki Jjigae (Mussels $38.90++, Pork/Beef $35.90++), which is the ultimate rice cake.
The stew is cooked on the infrared cooker for 12 minutes, before approx 120grams of premium Raclette cheese is melted and added to the delicious army stew. The homemade bean paste soup boasts strong sweet tones, and a satisfyingly heat that lingers. What I loved most was the addition of raclette cheese, which gives the bean paste broth a really lovely and creamy texture. Both the young and old will enjoy the chewy flavoured tteokbokki that comes in 3 different colours – white, purple and yellow. Flavours include cheese, sweet potato and regular. Adorable heart and star shaped tteokbokki, generous and succulent meat, egg, fish cakes, spams, sausages with mushrooms complete this delightful date treat!
One of Patbingsoo's absolute must-haves is the best seller Rolling Cheese Pork Ribs ($38.90), which comes coated in either a spicy, or non-spicy, sauce. The fork-tender pork ribs are great to be devoured on their own, but you should definitely roll them in the melted pool of cheddar and mozzarella. The more times you roll, the better!
Each rib carries a smoky flavour, and sweet and tangy notes that pair excellently with the platter's four complimentary sides, especially the juicy pineapple!
I've always found the experience of eating Ssam (Korean rice wraps) to be a bit of a hassle. If you're a lazy bum, like me, then the Patbingsoo Bulgogi Set ($11.90++) is perfect for you. The perfectly cooked pork/beef bulgogi, along with lightly-spiced kimchi, and rice balls, are already laid out on lettuce wraps. All you have to do is roll the lettuce up and eat it ssam-style. So convenient and delicious at the same time!
Beyond sharing platters that's perfect for families, and large groups, tasty Korean entrées are available too. The House Special Ramyeon ($12.90++) is an excellent pick if you're craving a hearty bowl of noodles that's chock full of minced pork, spam, kimchi and nori. The ramyeon is cooked for 4 minutes to achieve an al dente texture. However, you can always leave the noodles in the pot a little longer if you prefer your noodles to be softer!
Also not to be missed is the Cheese Kimchi Fried Rice ($11.50++), which sees kimchi-infused fried rice layered with pork belly, kimchi, nori and a generous amount of mozzarella! The rice carries appetite-whetting sour notes that are balanced out by the juiciness and flavours of the pork belly. Diners with a penchant for fusion cuisine will delight in the Seafood Sundubu Pasta ($13.90++), which features sautéed spaghetti topped with crispy tofu and succulent squid chunks and a gorgeous egg yolk, in a special spicy sundubu paste.
A noteworthy addition to Patbingsoo's savoury menu is the Chicken Skin ($7.90++) which is generously dressed in nacho cheese sauce. The crispy skin is sinfully delicious!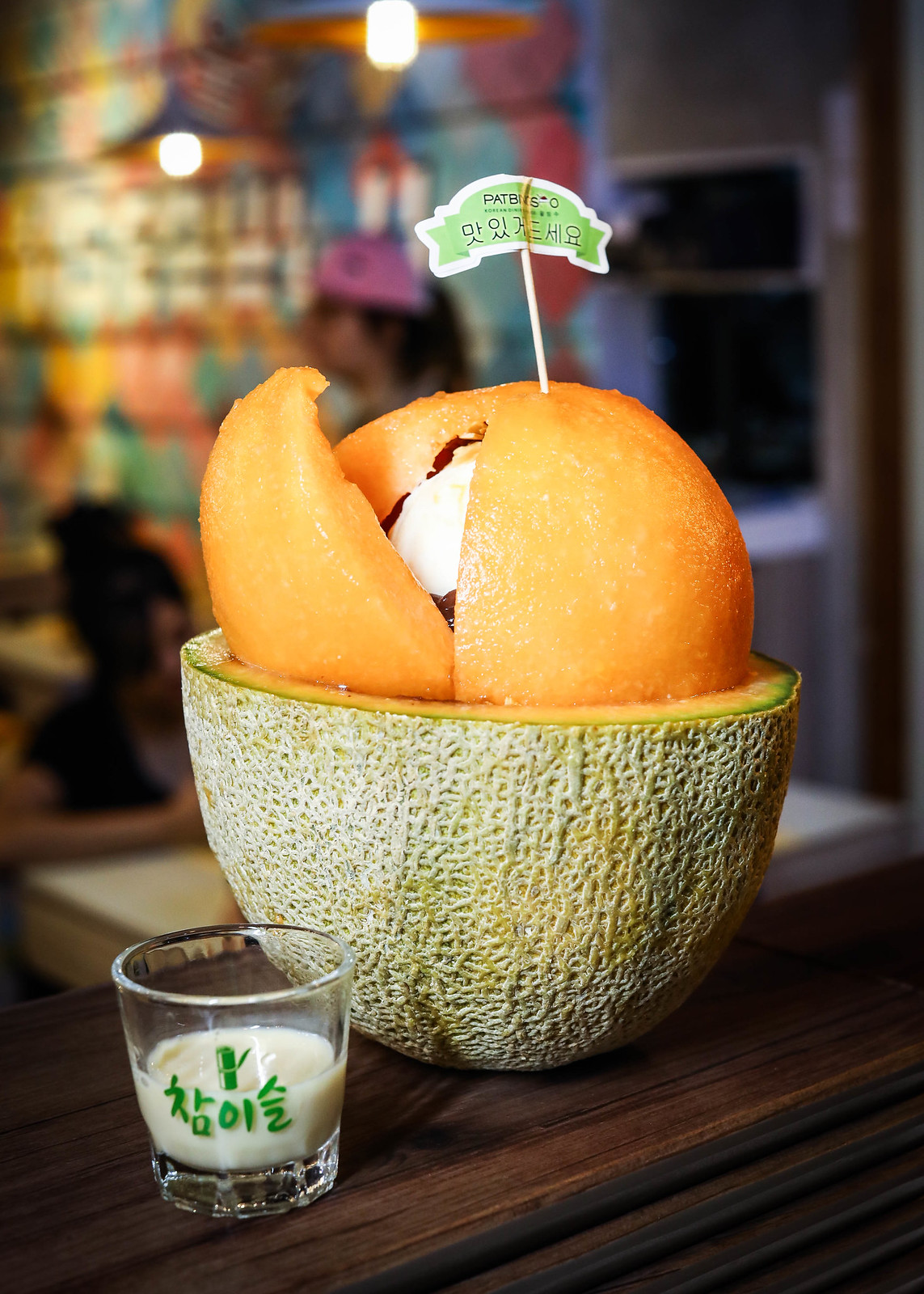 Most of Patbingsoo's desserts are actually named after actual subway stations in Seoul. The signature Sinsa Patbingsoo ($15.90++), which is named aptly after the popular street in Seoul, is my favourite. Half a rock melon is gingerly scooped out, leaving the rock melon flesh aside whilst the empty husk is filled with shaved ice and vanilla ice cream amongst other ingredients. The melon flesh is then placed over the fillings before the dessert is served. Every mouthful comprises a sweet burst, and different textures.
When you think desserts cant taste any better than this, it can. I fell in love with their new Mango Sticky Rice Bingsoo ($17.90++), which infused elements from the traditional Thai desserts like the mango fruit and sticky rice. You know it's good when you can't help but stuff yourself silly with refreshing mango-shaved ice and sweet coconut cream along with their homemade sticky rice.
There's always room for cheese. The Apgujeong Bingsoo ($13.90++) is created for the cheese lovers. Look forward to a generous amount of velvety smooth cheesecake, cheese sauce and cheese waffle.
Patbingsoo also offers a selection of refreshing beverages to go along with your meal. Forget your usual tea or coffee, and go for a cup of Coffee Taro or rich Taro Latte ($6.90++).
The Soda Popsicle ($7.90++), which comes in either melon or strawberry flavour, will be loved by those with a sweet tooth. I had fun swirling a whole popsicle in my drink! If sweet beverages aren't your thing, you can always kick back with a glass of Lychee Makkoli Mix ($9.90++) that delivers a slight alcoholic kick.
Patbingsoo is not a new face in our local dining scene. With numerous outlets islandwide, it's safe to say that the restaurant is doing something right. You lucky Northsiders can now have a taste of Patbingsoo without travelling too far out! Look out for other Patbingsoo outlets as well:
Plaza Singapura #B2-47
Tel: 9181 3038
Jurong Point JP2 #03-56
Tel: 9169 5817
Northpoint City #B1-181
Tel: 9169 5835
VivoCity #B2-27 (NEW)
Tel: 9187 0372
See you there!
This post was brought to you by Patbingsoo.
For more food videos, check out our official YouTube channel! Check out our article on Patbingsoo's VivoCity outlet here!