A&C Kway Chap – Delightful Kway Chap in Yishun
I arrived at a coffeeshop, in a quiet part of Yishun, where uncles were throwing bread at birds while enjoying their afternoon coffee. I picked my spot in front of the unmissable A&C Kway Chap which sits in a corner of the kopitiam, and wasted no time in deciding what I wanted for lunch.
I flirted with the idea of ordering way too much before ultimately settling on the Kway Chap Set with Duck Meat for 2 ($14), with 2 portions of kway($0.50 each).
The plate was full of delicious parts, but the thing that caught my eye first was the dollop of garlic on top of the kway. I absolutely adore garlic and to have it accompany the sheets of kway was such a delight. That said, the kway was smooth, silky, and just simply excellent with the light broth.
I always spike the bowl with the piquant chilli provided. Having the kway with the now-spicy broth is the best thing.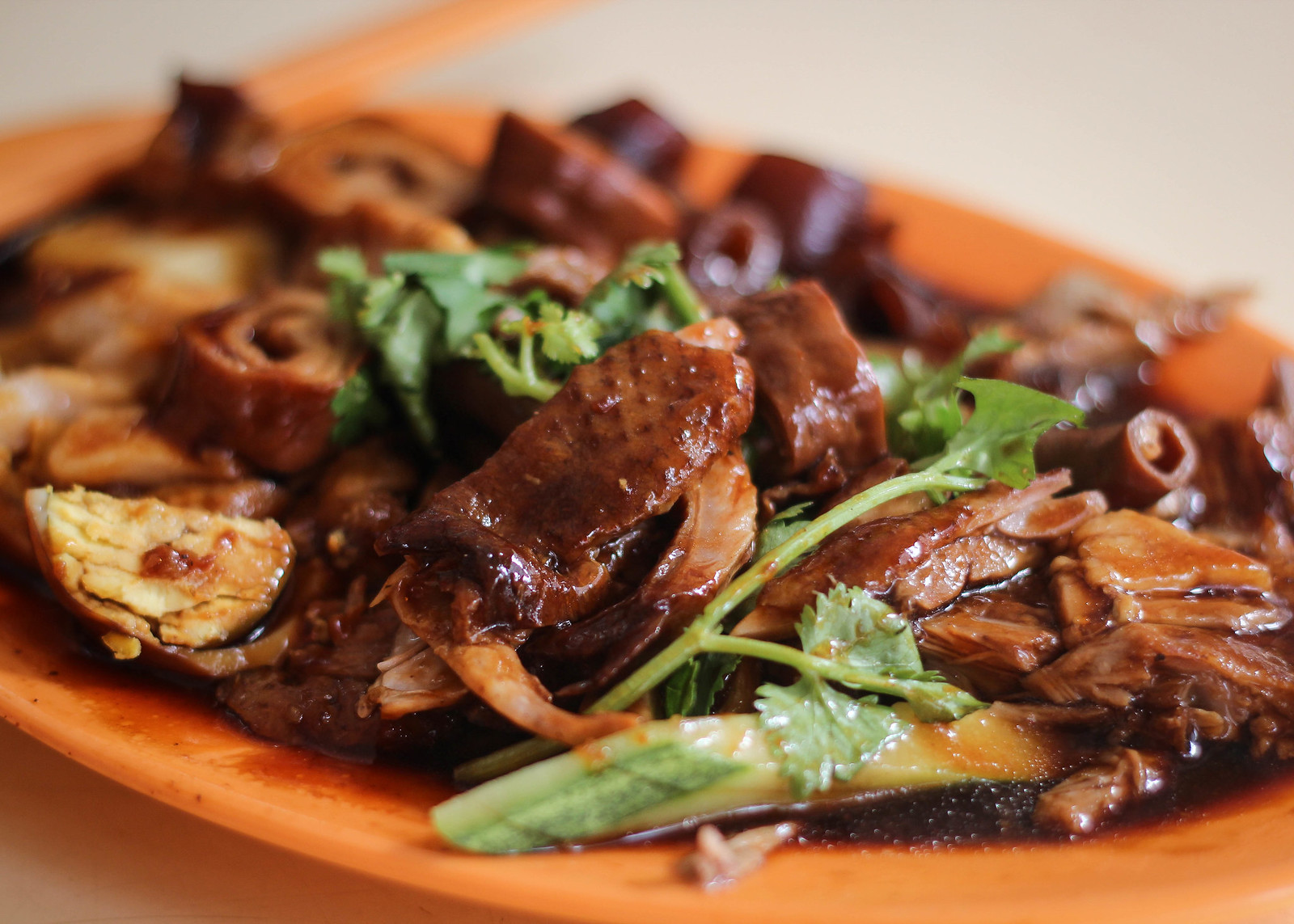 A full platter of kway chap looks like happiness to me.
Kway Chap is a combination of pork parts that have been marinated in a dark sauce (卤). Admittedly, as it includes innards, the flavour profile might be too strong for some to accept. I loved it since I was a young boy, and probably will love it forever. The dark broth made up most of the flavour, but the characteristic notes of the various parts definitely asserted themselves too.

Can you name all of the parts?
Here's the answer key. On my plate, there were big intestines (大肠), small intestines (小肠), pork rind, (猪皮) fish cake, lean meat, braised egg and, of course, the braised duck that I added.
The braised duck at A&C Kway Chap surprised me with a decent layer of fat. The meat was tender and moist throughout. I must have had 4-5 pieces of the duck before I moved on to the next component.
The addictive acidity and heat of the chilli had me wiping the plates clean, much to the disappointment of the onlooking birds.
A&C Braised Duck Kway Chap
Address: 605 Yishun Street 61, #01-309, Singapore 760605
Opening Hours: 7.30am to 3pm daily.
MissTamChiak.com made an anonymous visit and paid its own meal at the stall featured here.
Simply comment below if there's any changes or additional info to A&C Braised Duck Kway Chap. We will verify and update from our side. Thanks in advance!
For more food videos, check out our official YouTube channel! You may also wish to check out our article on Beef Up, a stall in Toa Payoh that serves Halal Taiwanese dishes!
Join us on our Telegram channel!